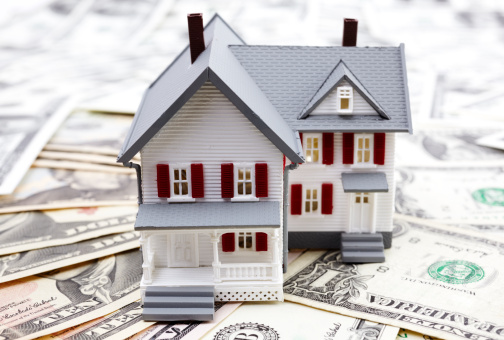 3 Easy Ways to Pay Off Your Home Faster
If you're like a lot of homeowners, your house payment takes up more real estate than any other item on your budget. 
But have you ever stopped to imagine all the things your budget could do if you didn't have a mortgage? You might dream of a weeklong stay at the beach, wearing your favorite wide-brimmed hat, enjoying your favorite novel, and soaking in an amazing view of the ocean. Now shake the sand off your shoes, and let's talk about how to make it happen.
These three tricks are based on a $150,000, 30-year mortgage with a 4% interest rate.
1. Use Simple Math
One easy way to shave years off your mortgage is to pay a little extra each month. Adding just one extra payment each year knocks four years and nearly $17,000 off your mortgage!
Can't do it in one big lump sum each year? No problem! Break it down into smaller chunks using one of these two options:
Divide your payment by 12 and add that amount to your monthly payment. In this case, we'd add an extra $60 to our regular $716 monthly payment, bringing the total up to $776.
Pay half of your payment every two weeks—also known as bi-weekly payments—instead of a single payment once a month. That gives you 13 payments a year instead of 12. For a $716 monthly payment, that would mean $358 every two weeks.
2. Get Andrew Jackson's Help
If $60 a month puts too much crunch in your budget, put Andrew Jackson to work for you by adding $20 to your mortgage payment each month.
Sounds easy, right? That's because it is! Even better, you'll pay your mortgage off a year and a half early, saving over $6,200 in the process. It may not be a huge win, but think of all you could do with an extra $6,200! 
3. Pack Your Lunch
Toting a brown bag to work every day doesn't sound all that appealing. But what if we told you it could save you tens of thousands of dollars over many years?
If that doesn't get you excited (and why wouldn't it?), consider this: If you trade lunch out for eating in and you apply that money to your house payment, you can be mortgage-free 11 and a half years ahead of schedule. Can you say "sandwiches and leftovers for life"?
 
A Word (or Three) of Caution
Before you build extra payments into your housing budget, there are some things you may want to consider.
Check with your mortgage company first. Some companies may only accept extra payments at specific times or charge prepayment penalties. Shame on them!
Make sure additional payments are applied to the principal and not to the following month's mortgage.
Don't shell out your hard-earned cash for a fancy-schmancy mortgage accelerator program. You can accomplish the same goal all by yourself, thank you very much!
Mission: Possible 
Want to know the quickest way to cut your housing budget down to zero? Pay cash for your next home! If that's not an option, jump-start your progress by sticking with a 15-year, fixed-rate mortgage and keep your monthly payment to no more than 25% of your take-home pay.
If you're looking to buy a home that doesn't wreck your budget, we can introduce you to the top real estate agents in your area. EveryDollar's real estate Local Providers are pros who can help you get a great deal on the home that's right for you. Find your real estate expert today!