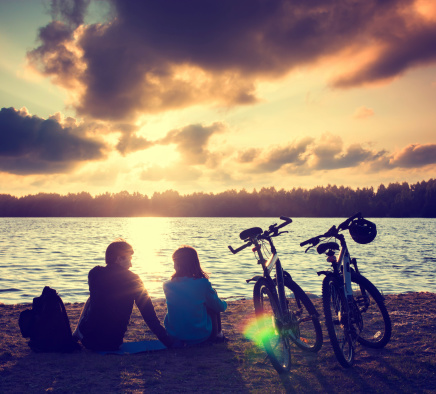 2 Big Perks of Baby Step 7
You're totally debt-free. You have no car payments, no house payment, no credit cards or student loans. Your retirement is well funded, and your kids have enough money for college.
Welcome to Baby Step 7 (also known as the good life).
It's time to start enjoying more of your hard-earned income. Just remember, the point of the last Baby Step isn't to escape reality. The point is to allow yourself some well-deserved freedoms in daily life.
How will you live and give like no one else?
Have More Fun
Think of your journey through the Baby Steps as an uphill bike ride.
You've been saving and investing for years. Now you've reached the top. And you're ready to coast down the other side with your feet on the handlebars and the wind in your hair.
That doesn't mean you stop investing or start spending recklessly. It simply means your fun budget just got a whole lot more fun.
In Baby Step 7, you still need to make a plan for your money—you'll always need one of those. But now's your chance to incorporate some of those aspirational dreams and lifestyle splurges you've been looking forward to.
Maybe that means spending more time with your kids or grandkids in another state. Or maybe that looks like six weeks in Greece with your spouse. Or perhaps you just want to relax at a spa once a week.
There's no right or wrong answer—because it's your good life. So have fun!
Give More Away
In addition to some awesome paid-for-in-cash vacations and weekly massages, the most fun you'll ever have with money is giving it away.
Up until now, your family has been your top priority—and rightly so.
It's nearly impossible to make a big financial impact on someone else when you're trying to pay off debts or put your children through college. But now that your kids and spouse are taken care of, you can freely focus on others.
Just think of all the good you can do with a greater amount to offer. Imagine writing a huge check to pay off a single parent's mortgage, buying medical supplies for foreign aid workers, or supporting a young couple on the mission field.
The beauty of Baby Step 7 is that your desire to give finally matches your ability to give. And there's nothing quite like it.
Smile! You Made It
When you reach the last Baby Step, keep budgeting and investing your money like before, but have fun with it like never before too.
Remember, it doesn't matter how long it took you to get here. What matters is that you've arrived. You have an incredibly exciting ride ahead of you.
Take your feet off the pedals and smile. You're truly living (and giving) like no one else.