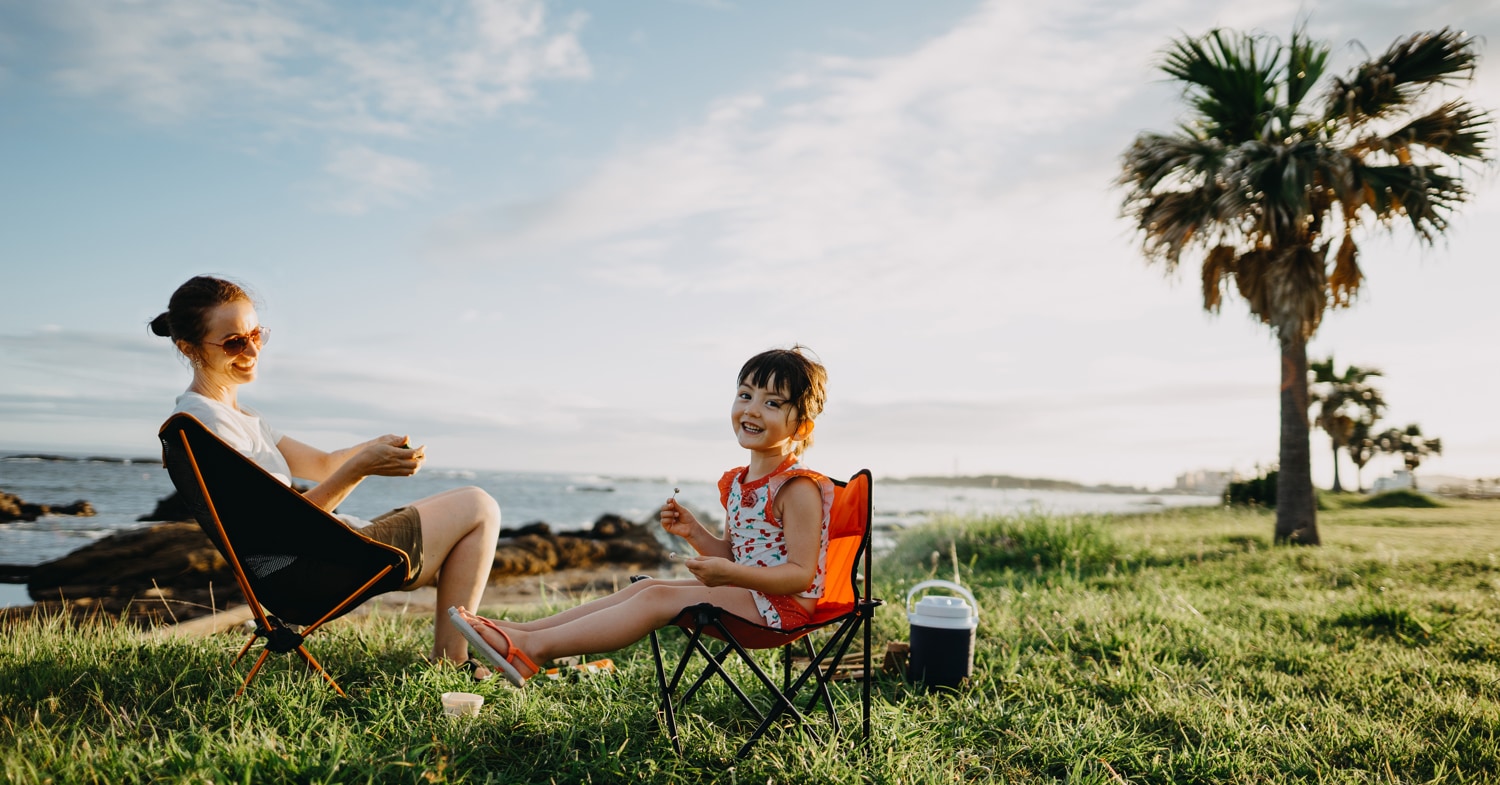 Budget-Friendly Fun (Yes, It's a Real Thing)
Whether you're working on a big savings goal or just trying to cut down on your expenses, you've probably felt that budgeting belt growing tight. We're proud of you for getting serious about your finances—but you can stick to your budget and still have fun. After all, fun isn't a four-letter word. Debt is.
As a starting point, we want to give you a big list of inexpensive adventures to enjoy alone, as a couple, with friends, or as a family. Get ready to stretch your entertainment budget line, because we're about to have some seriously budget-friendly fun.
Budget-Friendly Fun in the Great Outdoors
State Parks. Camping is the quintessential outdoor bonding activity. What could be better than hiking, grilling, and sitting around a campfire with your favorite people?
Local Parks. If you'd rather stay close to home, just pack a picnic lunch and spend a day at your local park. Fill your SUV with bikes, trikes and kites. Grab your gloves and a ball or dust off that frisbee. It's time to get some outdoor air and exercise!
Hiking Trails. Do a quick online search, and you'll find tons of trails in your area. Various websites rank trails based on their difficulty, share photos and comments from others, and inform hikers of the trail lengths. This isn't just a summer sport. In fact, many enjoy a fall or early winter hike all the more—no threat of sweat sounds good to us too.
Hometown Tour. It's time to explore all the places you normally pass by. Simply drive to a walkable district in your town and hit the pavement. Budget for lunch at one of the new restaurants you'll find.
Zoo Membership. This isn't the best budget idea for everyone, so you'll have to do some math to make sure it's worth it. If your animal-loving crew would adore numerous trips to your local zoo through the year, a membership makes this an affordable outing. Divide all your projected visits by the total cost, and you'll know if this one's right for your fam.
Scavenger Hunt. Great for all ages, a scavenger hunt can cost you nothing, unless you want to buy a prize for the winning team. Pinterest is full of ideas for great hunts, or you can create your own list geared toward your town's specific features. Nature, city, backyard, neighborhood, park—you pick the location, and the fun will follow.
Outdoor Concerts. EveryDollar's hometown of Nashville is known as Music City for a reason. Every summer, Live on the Green is a free music festival that brings incredible talent to the masses over several nights of awesome entertainment. Check your location for similar options.
Movies in the Park. This is a warm-weather favorite hosted by many towns. See if yours has offerings worth watching. You'll just need lawn chairs or a blanket. Bring your own snacks, and you've found a perfect pastime under the stars.
Sunrise or Sunset. Nature provides a free production every morning and evening. Most of us are just too sleepy or too busy to notice. Grab coffee or leave the dinner dishes for later, and watch the sun rise or set. You can catch this celestial show on your very own deck or take a drive to a location with a view.
Field Day. Remember the best (or worst, if you're not into sports) day of school as a child? Field Day. Gather your family and/or friends, and recreate some of those obstacle courses, three-legged races and bean bag tosses. If you want to get really creative, search online for even more ideas!
Indoor Budget-Friendly Fun
Dinner and a Movie. But this time, stay home! Renting a movie has never been easier or cheaper. Redbox and Amazon and Netflix, oh my! Even your local library offers a multitude of movie options. Take home some takeout, grab a pizza, or cook your own supper. You can have a splendid night in without exhausting your entertainment budget or getting your shoes stuck to the who-knows-what covering that theater floor.
Game Night. With family or friends, game nights are always lively. Play old favorites like Candyland or Chutes and Ladders. Dust off your deck of cards. Invest in a new game you've been eyeing on Amazon. The fun is in the company—and the competition.
Coffee Shop. Coffee shops are a perfect setup for relaxing conversation. For the price of one cuppa, it's like you're renting the ambiance and space for a couple hours. Alone or with others, this is a wonderfully affordable outing. Some shops even have kid rooms—the littles can play with new best friends they'll never see again, while you savor the caffeine you need to finish up the day.
Theater Deals. You probably know about the discounted rate of matinee times at the movie theater, but you need to look into what other offers they supply. Some show a kid movie for just a couple bucks throughout the summer. Others have a special deal one night of the week. Look at all the theaters around you and see what you can (more affordably) see!
Dance Party. All you need here are some good speakers and a perfect playlist. And probably water. You'll want to keep hydrated, because this dance party is going to rock. Take the fun one step further—make it themed! All '80s? All right! '90s throwbacks? Yes, please. Dress up, and then get ready to get down.
Work Out. Free weekly yoga offerings are popping up all around our hometown. Does your city have something similar? You can also consider the local gym, rec center or YMCA. Do not buy a membership you won't use. But if burning calories in public is your jam, search for deals or see if your employer offers any health incentives. And don't forget the working out at home route. You don't have to go out to work out: Purchase a video series, sign up for a streaming service, or make use of free videos online.
Art Night. Get your Bob Ross on. Seriously, turn on an episode. Armed with a canvas, paints, a brush and a small easel, you can have an art party at your place. If happy little trees aren't your style, find a tutorial on YouTube. With others or on your own, you might even find a new talent—or a good reason not to quit your day job. Even if the main entertainment is how unskilled you are, give it a try! They say laughter is the best medicine, right?
New Recipe. Skip the restaurant—and start your own. Test out a new recipe! If you have kids, you can help them cook, design a menu, set the table, and serve their "customers." If it's just adults, go as fancy or comfort-food friendly as your taste buds desire.
Karaoke App. Going to karaoke can really add up, but doing it in the privacy of your own home alleviates your budget and your stage fright. Find the lyric videos on YouTube or download an app to make the experience feel more authentic. But remember the most important part—it's isn't really a karaoke night until someone belts out "Don't Stop Believing."
Read Together. There's nothing like a night in front of the fireplace with hot tea and a good book. This quiet time alone or with those you love may not be glamorous, but plenty of us would call it an ideal evening. Don't discount the easy options when you're trying to find frugal fun.
Other Ways to Save on Fun
Deal Websites. Groupon and Living Social are excellent online resources for finding incredible deals on tours, spas, restaurants, vacations, races and all sorts of other experiences.
The More the Merrier. If the price goes down divided by more people, then invite more friends!
Share. Share the cost, share a meal, share appetizers, share a ride. When you share, you save.
Email Sign-Ups. We know you don't want emails flooding your inbox, but it's worth signing up for ones that'll send you deals for your favorite restaurants and activities. This way you can be in the know about opportunities for economical amusements.
Off-Seasons or Nights. Learn the best promo nights for your favorite restaurants. Grab a cabin with family or friends in the off-season. Companies are offering you a deal to bring them business during slower times, so enjoy those savings.
Passes and Memberships. We mentioned zoo memberships, but what other places do you love to frequent? If a membership to the museum makes sense in the long run, then it's worth considering that investment. As long as you don't go crazy at the concession stand, it might be the perfect deal for you.
We know you can stick to your budget and still have fun. Look at all those examples! Got more ideas? Share them with other EveryDollar budgeters on Facebook! And don't forget to track all those economical expenses in your EveryDollar budget.