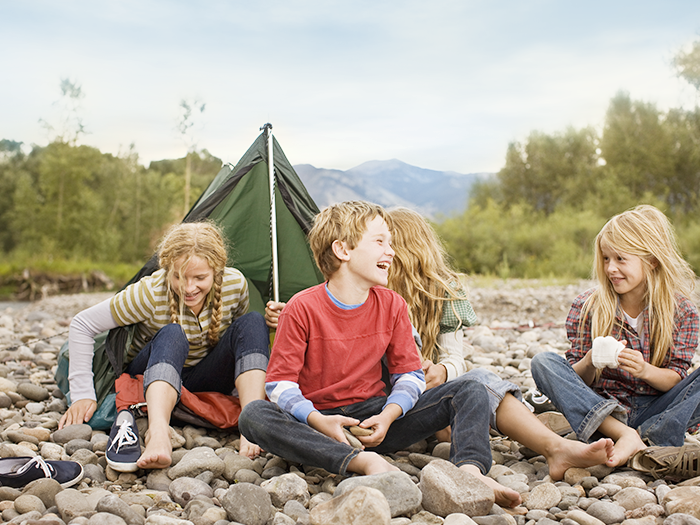 How to Have Fun This Spring Without Busting Your Budget
Got spring fever?
We're all itching to put away our winter sweaters and gear up for some warm-weather fun. But pricey trips to the zoo or a professional baseball park every other weekend can add up fast. That's cash you could be saving for umbrella chairs on the beach this summer!
So how can you curb your spring spending and still have tons of fun? Here are 15 creative and inexpensive ways to enjoy the season without busting your budget.
Going Out:
1. State Parks. Camping is the quintessential family bonding activity. What could be better than a full day of hiking, grilling, and sitting around a campfire with your favorite peeps?
2. Local Parks. If you'd rather stay close to home, just pack a picnic lunch and spend a day at your local park. Fill your SUV with bikes, roller skates, Frisbees and kites for the ultimate spring play date.
3. Airy Entertainment. On the weekends, you can usually find free movies, music or theatre productions under the stars.  So fold up your lawn chairs and grab a good spot. Also, check out weekend art crawls in your community.
4. Hometown Tour. It's time to explore all the places you normally pass by. Simply drive to a walkable district in your town and hit the pavement. Budget for lunch at one of the new restaurants you find.
5. Berry Picking. Late spring means berries galore! Visit a pick-your-own farm with baskets in tow. When you get home, try boiling your own jam or baking a pie. (By the way, this can be part of your grocery budget!)
6. Volunteering. Pour back into your community and have fun by meeting new people and completing a project with your family. Spend a Saturday clearing a public trail or participating in a charity walk-a-thon.
7. Rainy Days. Spring isn't always sunny. When it rains, check out free museums, library story times or discounted matinees. If your kids are feeling antsy, grab $1 ice cream cones at your favorite fast food spot and enjoy the indoor playground.
Staying Home:
8. Lemonade Stand. Got entrepreneurs in the house? They can have fun and make money with a lemonade stand or car wash. Help them with the basics, like what to charge and how to advertise.
9. Sunrise Watch. This one's nice to do alone or with family. Get up early, pack a thermos of coffee or hot chocolate, and walk to a nearby hill to watch the sun come up. 
10. Tea Party. If you have little girls, this one's a must. Plan a backyard tea party with tiny PB&Js and a pitcher of fruit tea. Be sure to invite all their stuffed animals.
11. Sidewalk Games. Chalk opens up a pastel world of possibilities—body outlines, foursquare matches and hopscotch tournaments. You're never too old to spruce up the sidewalk.
12. Rock Art. This classic activity can keep your kids entertained for hours. Go on a rock hunt together then let them paint until their stones (and fingers) are nice and colorful. Adults can do this too!
13. Garden Splash. Planting your annuals soon? Do it as a family. Then turn on the sprinkler, bust out the spray bottles, and have a full-on water war. Be sure to soak the flowers too!
14. Scavenger Hunt. Download or create your own scavenger hunt. Then send the kids exploring. Give them a camera and let them take photos of each item as they check it off the list.
15. Sunny Slumber. Find a shady spot and sprawl out on a blanket together. You can read, nap, listen to music, or chat quietly. Just enjoy some down time with your nearest and dearest.
And remember, it's okay to spend some fun money this season. Just work it into your budget before you do. That way, there's more room for bigger goals—like that weeklong vacation by the ocean in a few months.