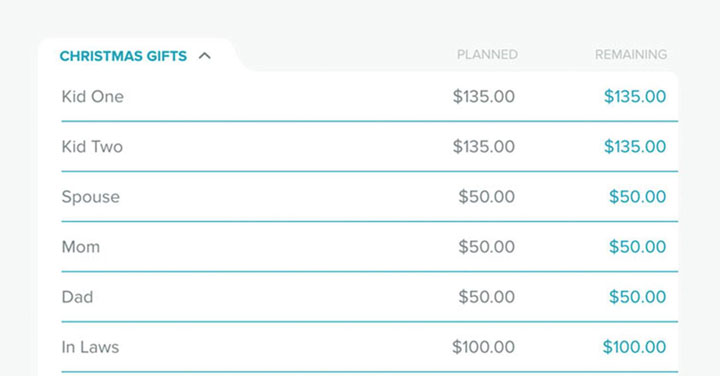 How to Set Up Your Christmas Spending Budget
One of the most frequent stressors during the holiday season is overspending. So many people have the best intentions—and they want to give to as many people as possible—but those good intentions too often come with a lot of bills in January.
If you're worried about overspending this Christmas, we have the fix. It's simple. It's easy. And you can do it right now . . . make a Christmas budget!
Here's how to make a very simple zero-based Christmas budget using EveryDollar.
First, decide how much you can spend on Christmas gifts.
Gallup says Americans planned to spend more than $800 on average on Christmas gifts last year. Depending on your family and money situation, that might be a lot or not nearly enough.
As an example, let's say you budget $600 for Christmas gifts. That's the total amount of money you plan on spending on your family and friends this holiday season.
Second, create your Christmas budget by signing into EveryDollar and setting up a budget group called Christmas Gifts.

Next, under your Christmas Gifts category, create a budget item for each person you plan to buy for and note the amount you want to spend on each of them.
Your Christmas budget might look like this: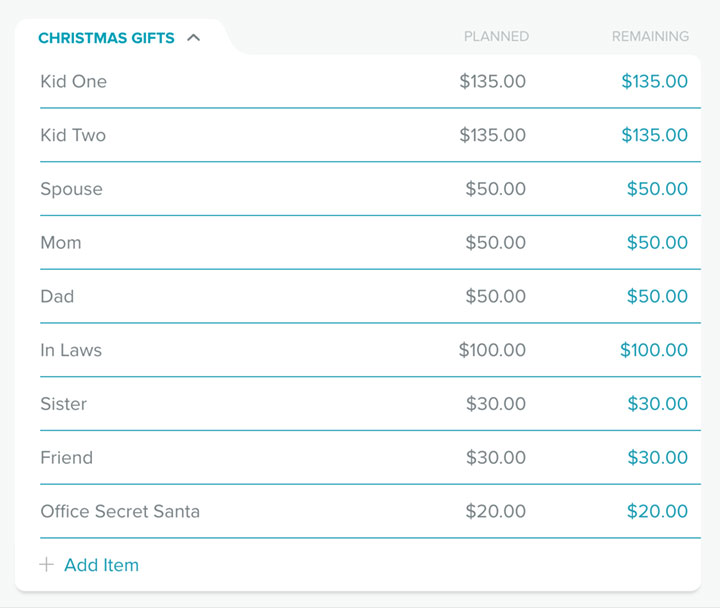 Every dollar you'll spend is attached to someone's name, just like categories in a budget. It's that simple.
Finally, track your spending as you shop. Easily view how much you've spent and how much you have remaining to spend.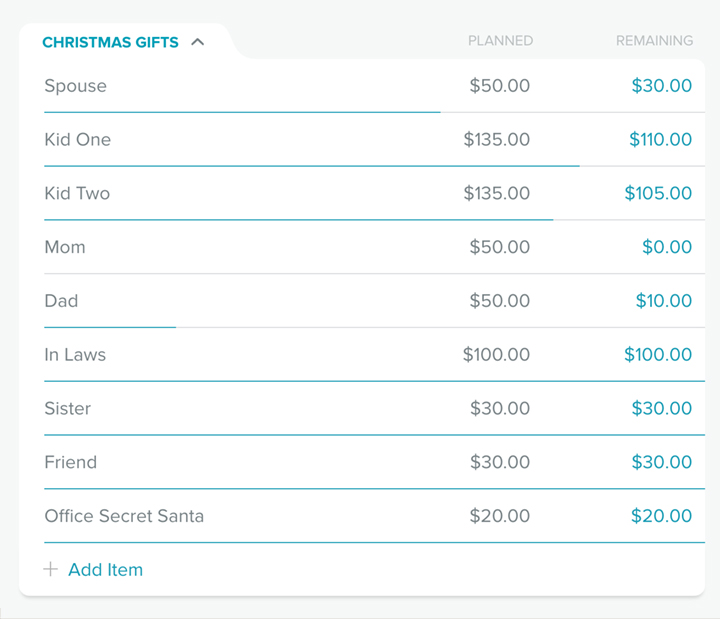 And don't forget to make adjustments based on how much you actually spend on the gifts. If you find something on sale, you can adjust the $50 you had allocated to $40 and move that extra $10 somewhere else!
You'll find your Christmas shopping experience is much more enjoyable when you can check everyone off your budget list, instead of spending first and worrying about paying off credit cards later.
Now go make that EveryDollar budget. Merry Christmas and happy budgeting!