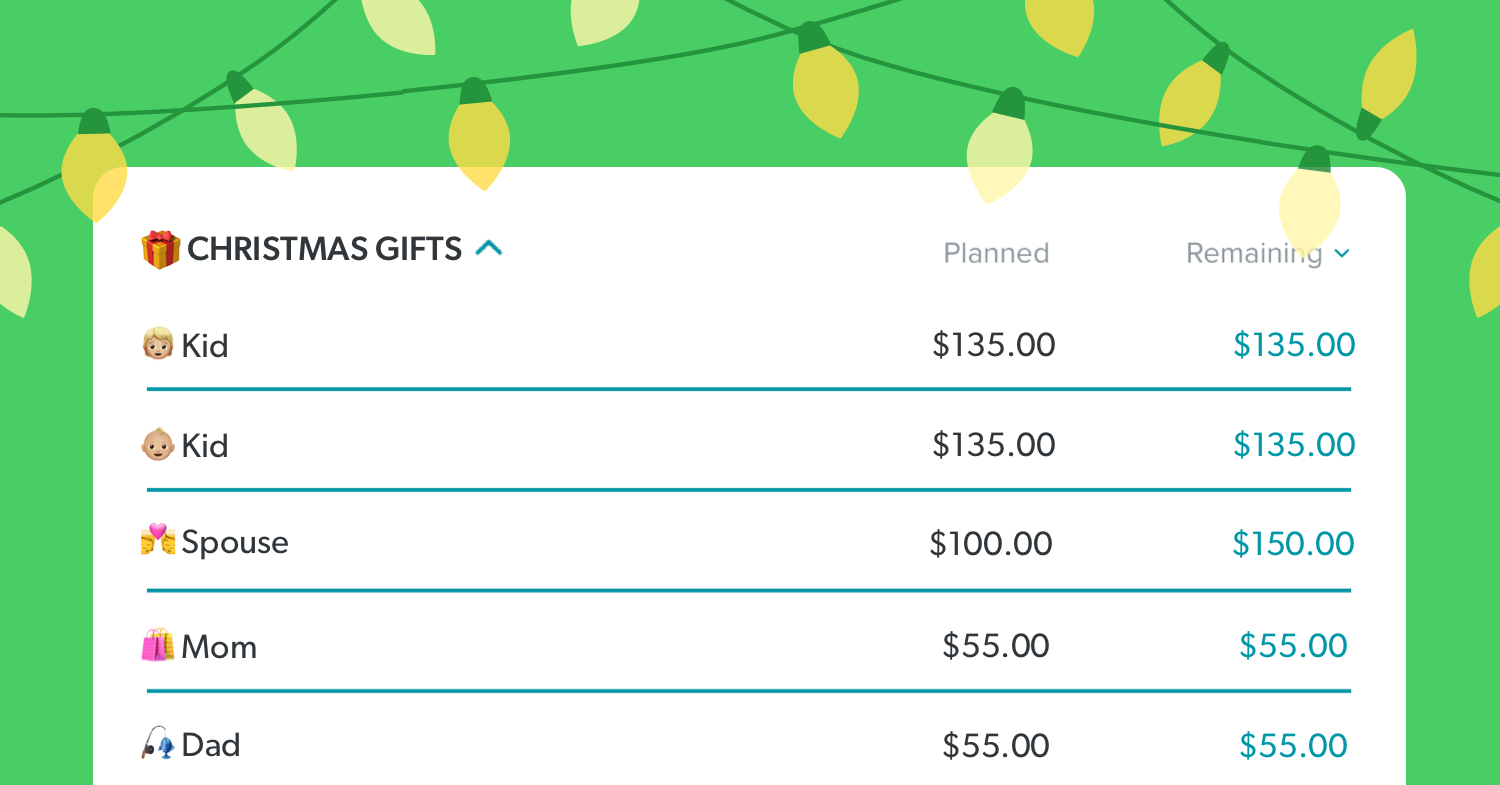 How to Set Up Your Christmas Spending Budget
Did you know Americans spent $730.2 billion last holiday season?1 That's a lot of photo cards, candy canes, Michael Bublé CDs, Santa hats and sparkly ornaments. But unless you plan on skipping Christmas this year, you'll find yourself a part of that $730 billion machine.
To enjoy the gift-giving season without any guilt-ridden overspending, set up your Christmas budget now—and then stick to it like sap on a fir tree. Here's how.
Do a Christmas Budget Inventory
First things first: It's time to do some digging into your Christmas budget. That means you need to ask yourself the following questions to see where you stand now so you can know how much to spend on presents later.
How much do you have saved?
Before you know what you can spend, see what you've got to work with. Hopefully, you started saving early. If not, we'll talk about how to get extra money so you don't end up just doling out the coal this year.
What budget lines can you tweak?
Even if you started saving early, you might still need more cash to cover all the Christmas costs. Look through your normal budget and figure out what budget lines can get trimmed down to free up gift money for your Christmas budget.
Don't know where to start? Here are a few nonessential budget lines you can probably cut back: restaurants, clothing, personal spending, entertainment, and gourmet hot cocoa.
"But wait!" you say. "If I trim back on entertainment, my family can't go see the Christmas lights this year!" Yes, they can! Drive to a neighborhood that goes all out and enjoy that free experience. BYOHC (bring your own hot cocoa) and make a cheap—but valuable—memory.
How can you boost your income?
If you're able, boost your income for a couple weeks as a way to up your spending power. You could sell some things, take on extra hours at work, or start a side hustle. Get creative: Babysit so parents can go Christmas shopping alone, shovel driveways and sidewalks, offer gift-wrapping services . . . You get the idea!
What Christmas traditions can you skip?
You can save money this year by cutting some expenses—and that includes traditions that don't really matter (like the annual office ornament swap). Be open and honest with your budget and your loved ones!
Do you have a shopping list?
If not, make one! You need to list out every person you'll need to buy for and start brainstorming present ideas. (You can use our Christmas Present Planner to do just that.) This will help you when you're making your Christmas budget category in EveryDollar (we'll show you how in a minute).
How can you save on gifts?
Shop sales. Use coupons. DIY and make homemade gifts. Skip random gift exchanges. These are just some of the ways you can save serious cash this Christmas on presents.
How to Set Up Your Christmas Spending Budget in EveryDollar
1. Plan how much you'll spend this year.
Americans plan to spend $997.79 on holiday spending this year.2
First of all, you should never feel pressured to spend that much! You should spend what you're comfortable with based on what you make, what you've saved, and what you can move around in your budget to get the job done. So, crunch some numbers and see how much you've got to play around with this year.
2. Create a Christmas budget category in EveryDollar.
Sign in to your EveryDollar account, scroll down to the bottom, and you'll see + ADD GROUP. This is how you add a new category. Name it anything you want: Santa's Stash, Festive Finances, Merry Money, or the super straightforward name we've given here—Christmas Gifts.

3. Add the names of everyone who needs a present.
Once you've set up your budget category, click Add Item and type in the name of each person you have to buy for. (No, that doesn't mean you think people are items. It's just budget terminology, folks!) Now, go ahead and assign spending limits to each person.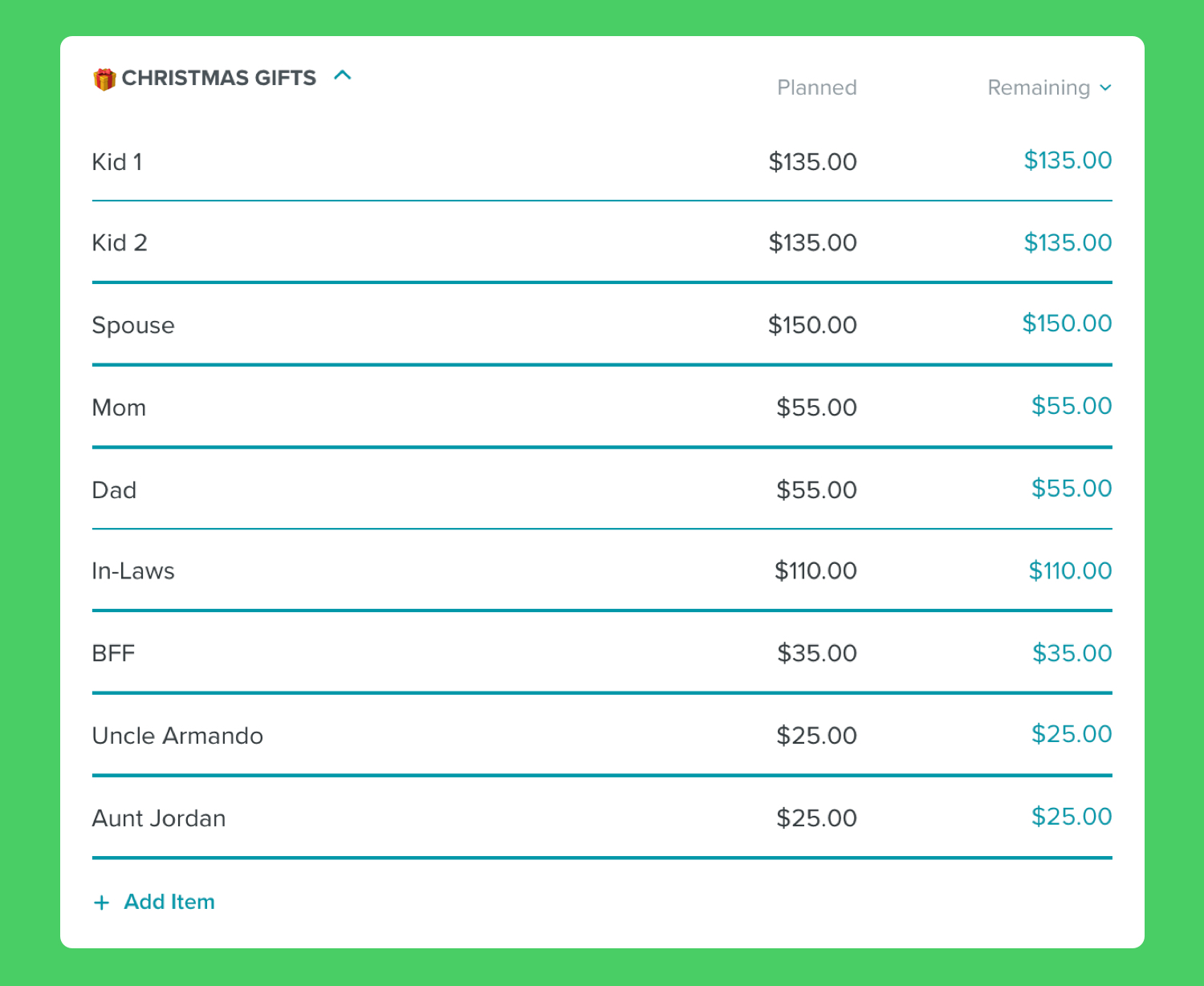 4. Track your spending as you go.
Want to know how you don't overspend? You track. You track hard. You track often. Keep up with all that spending as you go. Log in to your budget, click the word Transactions. Next, click the orange plus sign. Then, record the expense!
Or give yourself a Christmas present and upgrade your budget to the premium version of EveryDollar, an exclusive feature of Ramsey+. Then you can connect your budget to your bank account, and those transactions will just stream on over for you. All you have to do is drag and drop each purchase into the correct line item of your budget. That's simpler than any reindeer game, and way more beneficial too.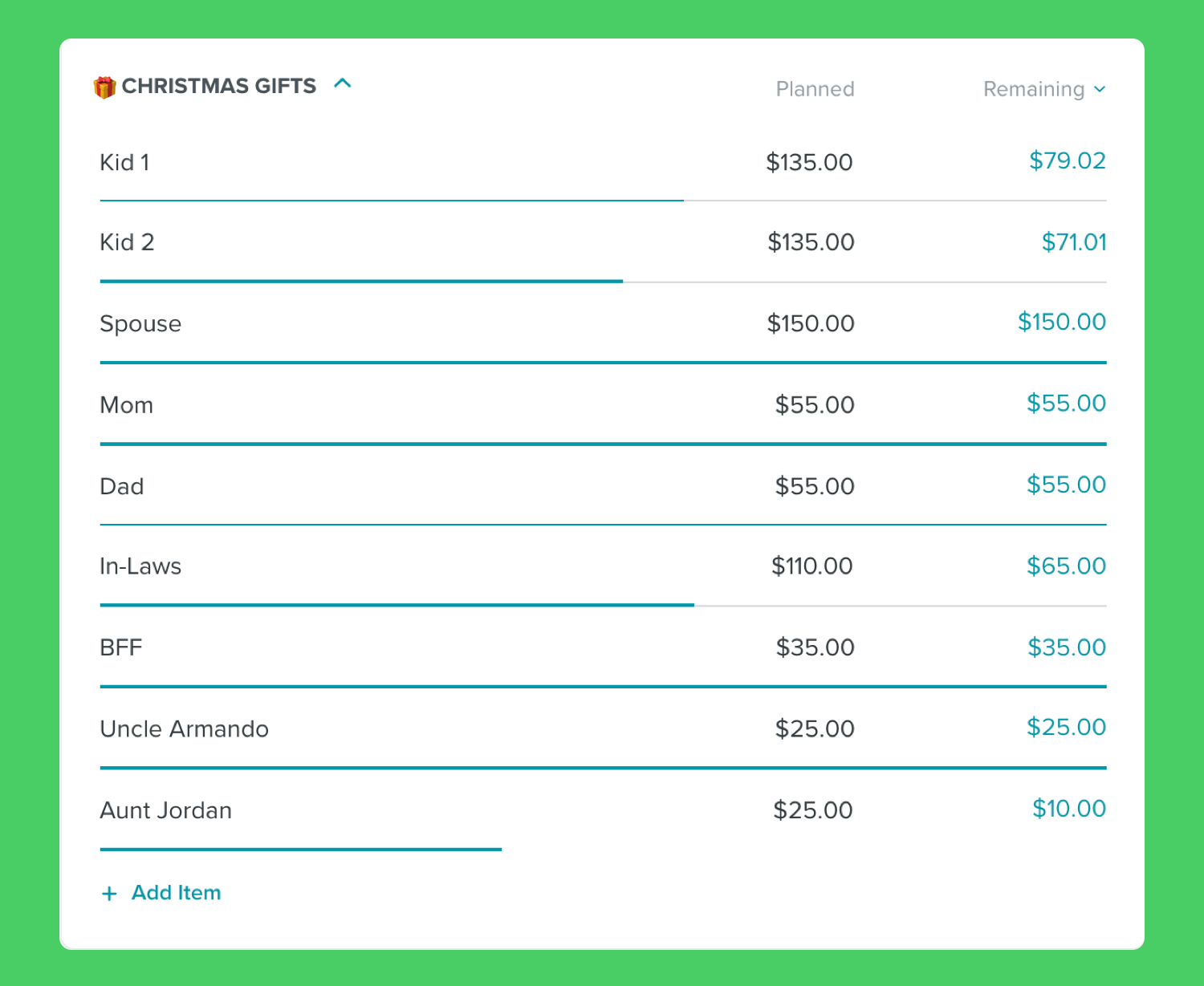 5. Move amounts around when needed.
Oh no. You overspent on Mom by $5. What will you do? It has to come from somewhere. You can lower Dad's line (sorry, Dad!) by $5 and use it to up Mom's line.
Or maybe that graphic tee with the flight pun on it for your airplane-loving BFF is on sale—and now you have an extra $15 for someone else! Move that money over to your spouse so you can afford to get them that upgrade to a year of ad-free music streaming.
Yes, you can change up the planned amounts after you put them in there. And you should. When you shop, move the money around as needed! Just make sure you don't overspend the total amount you set for the entire Christmas Gifts category.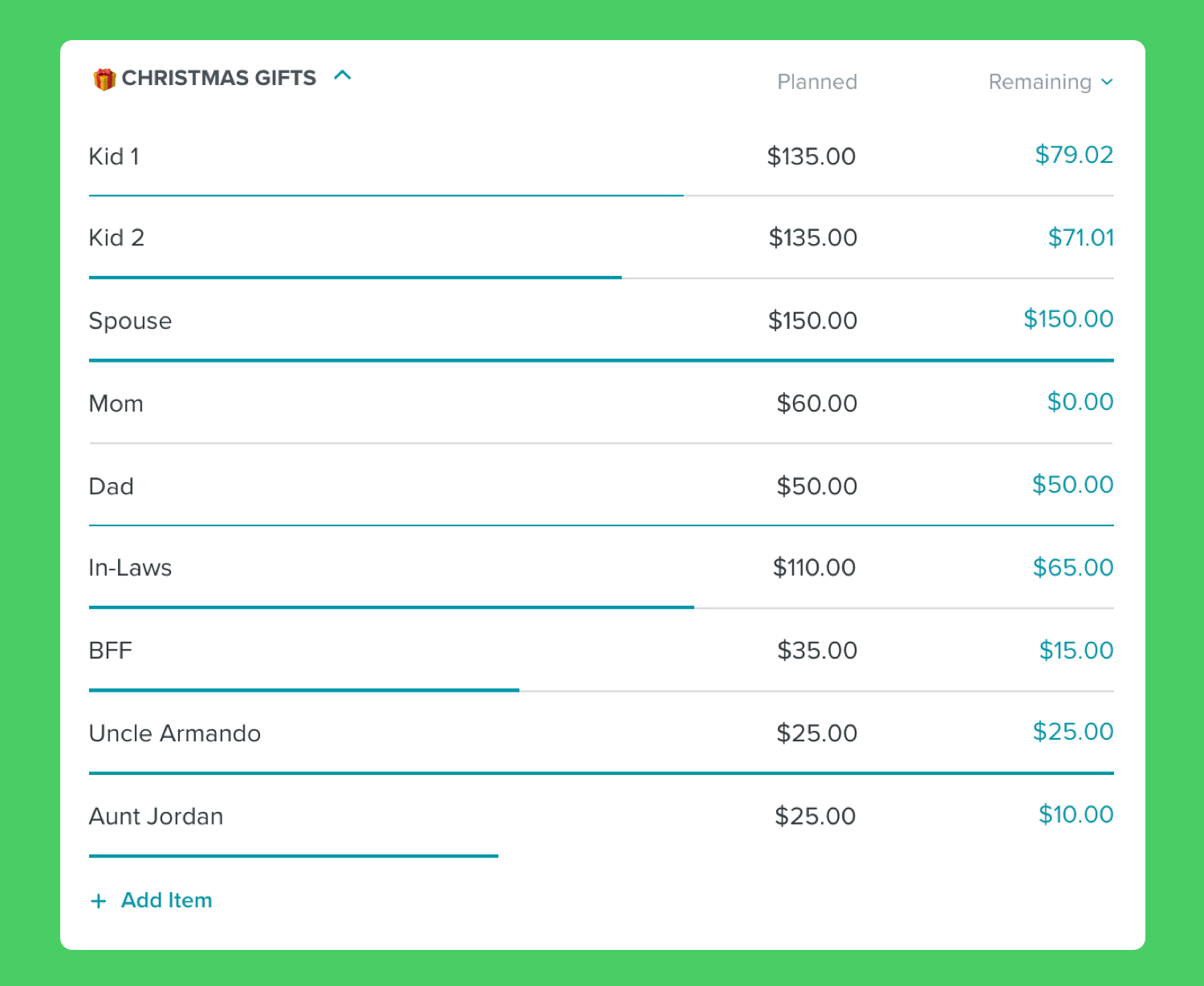 Budget early for next Christmas.
Here's a quick shout-out to planning early—do it! Put a sinking fund in your budget as soon as January to start stashing away cash for next year's Christmas. If you do it little by little, month by month, coming up with Christmas money won't hit you like the reindeer that ran over grandma in that song that's now stuck in your head.

Get into your EveryDollar account and follow these steps to set up your budget so you can have a holly, jolly, well-budgeted, debt-free Christmas this year!