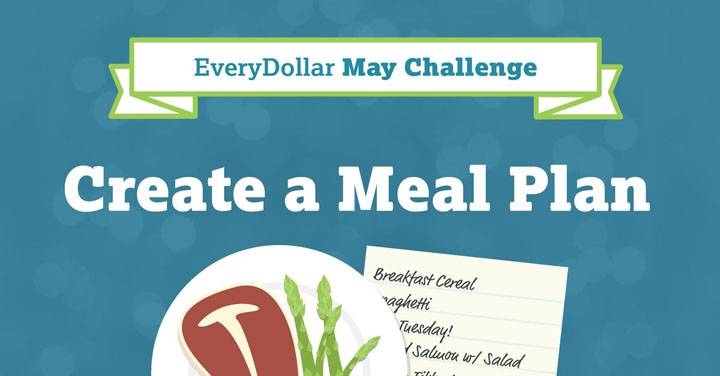 Grocery store savings
May Challenge: Create a Meal Plan
We've all been there—getting a quick lunch at the drive-thru or picking up a pizza on the way home because it's just easier that way. You don't have time to cook, much less make a shopping list! At least that's what it can feel like.
While it may seem easier to grab food while you're out, spending a little here and there can really add up in your budget by month's end. We have a better way to control your cash and still enjoy your life. And it all starts with a plan.
This month's challenge is to create a meal plan. With some easy prep work before the month begins, you can make a huge impact on your food budget. Here are five steps to becoming a money-saving, meal-planning pro:
1. Create your grocery budget. Determine how much you'll spend at the store for the month. Once you have that amount, divide it by the number of weeks in the month (if you're a weekly shopper). This gives you the total you can spend each week.
2. Do your research. Time to make your menu! Get ideas for breakfast, lunch and dinner from eMeals, Pinterest, Food Network . . . any place you want. Create a plan you and your family will love. And get them involved by asking for ideas!
As you're planning, look for ways to make meals easier on yourself. Cook some roast beef one night and then slice up the leftovers for Philly cheesesteak sandwiches the next day. You'll get the hang of it.
3. Make your calendar. Write down when you plan to have each meal. If you're short on time between work and soccer practice on Wednesday, look for slow cooker recipes that night. Or choose a meal that doesn't require a lot of prep work, like BLTs or a salad. On the other hand, if you're staying in on a Saturday evening is a great opportunity to cook a big supper.
4. Write down the ingredients. Go through the recipes you've chosen and write down the ingredients you need. Most people remember to buy stuff like noodles, sauce, salad and breadsticks for spaghetti night. But they might forget the staples like salt, butter, oil and salad dressing. Take inventory of all the ingredients you need before you finish your list.
5. Do some shopping. Now take your list and head to your favorite grocery store. You'll be amazed at how good it feels to shop with a plan. You spend less money, take less time, and feel less stressed.
Try It for Yourself
Setting a meal plan and budgeting for it makes grocery shopping simple. You'll love the feeling of walking into the store, getting just what you need, and walking out without wondering if you forgot something (or if you spent too much).
Plus, you can resist all those midweek restaurant runs now because you're actually excited about all the good stuff in your fridge! Saving money never tasted so good.
Take the first step in this month's challenge by creating your grocery budget with EveryDollar!