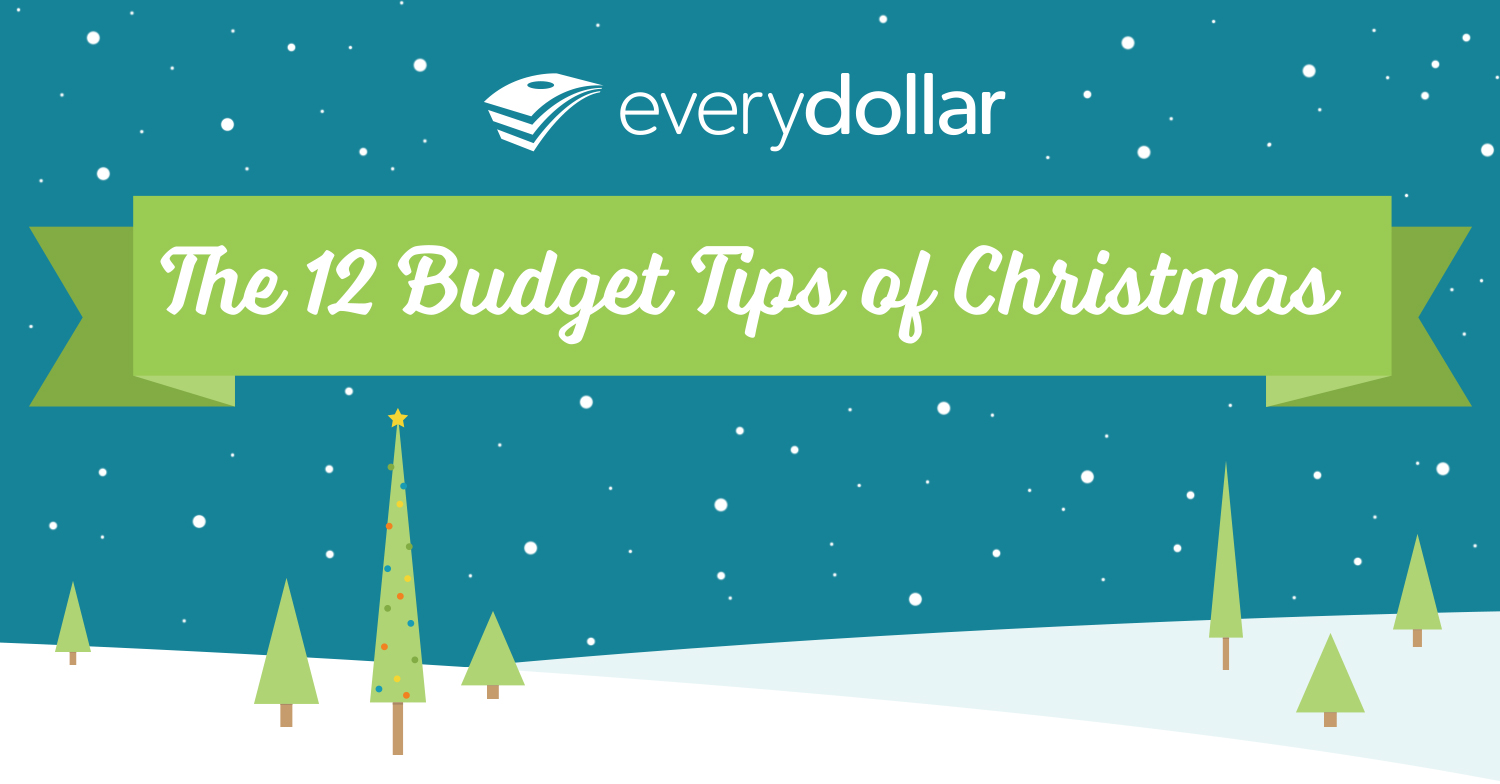 EveryDollar's 12 Budget Tips of Christmas
'Tis the season . . . to give generously and spend smartly. This Christmas, try our budget tips to ensure that only happy memories—and no debt!—follow you into the new year.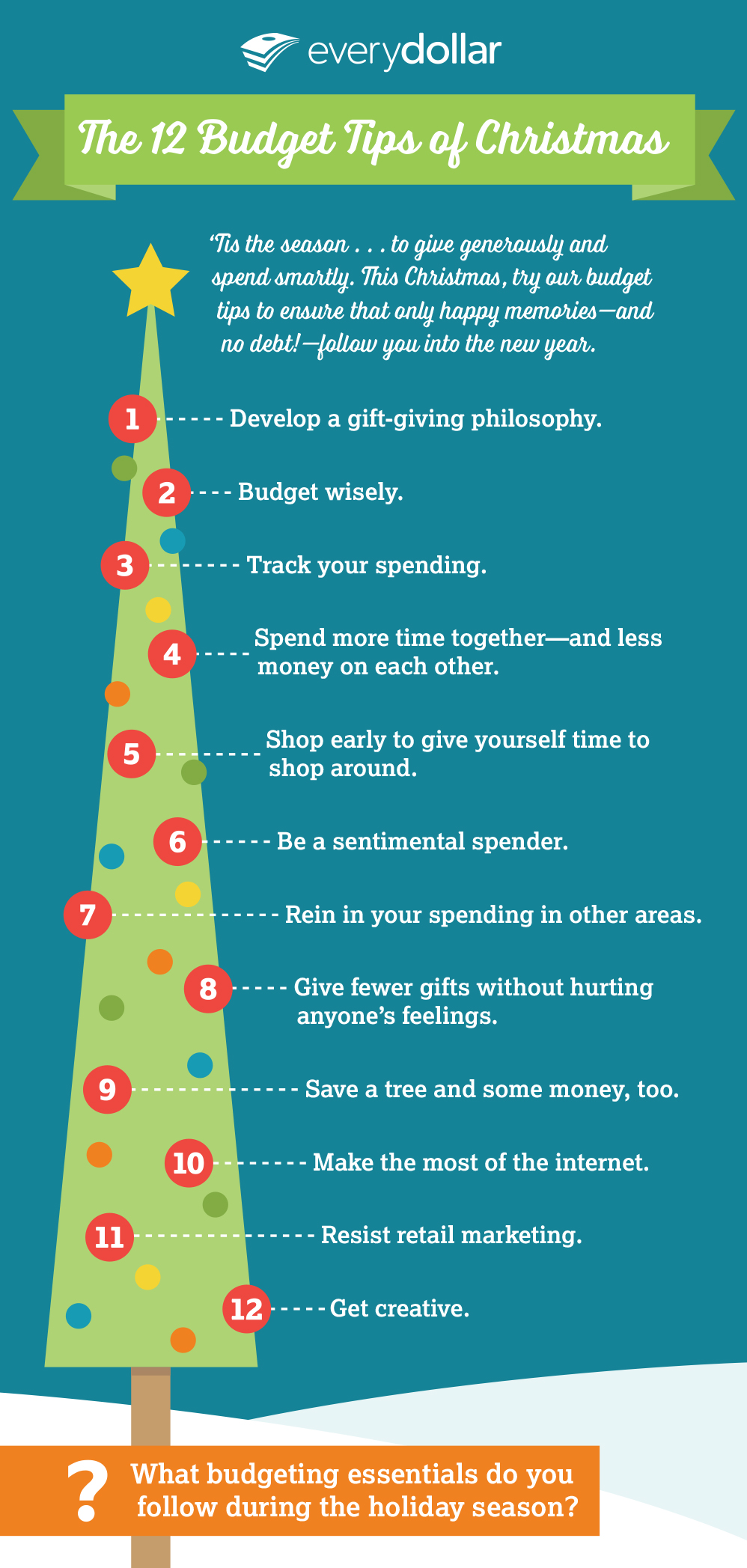 1. Develop a gift giving philosophy.
Take time to consider your who/what/why of holiday gift giving. When it comes to your usual gifting routine, do you need to amp up the holly-jolly or do peace, love and joy need some attention? There's no wrong answer here —just make adding purpose to your purchases the goal.
2. Budget wisely.
Add up your Christmas savings. How much do you have so far and how much more will you set aside? Divide the total among all your gift recipients: think family, friends, coworkers and teachers. Then create a Christmas budget in EveryDollar with line items for all of your holiday shopping.
3. Track your spending.
At the end of each shopping trip, be sure to update your in EveryDollar app. This means you'll need to keep your receipts. Or you can sign up for EveryDollar Plus, and your bank transactions will be waiting for you to categorize when you get home!
4. Spend more time together—and less money on each other.
For every gift exchange you normally do, try a little switcheroo. Ditch Secret Santa and opt for an activity instead. You might cruise around the neighborhood hunting the best light display, catch the latest holiday movie at the theater, or get all gussied up for a night on the town.
5. Shop early to give yourself time to shop around.
By checking your list early, you'll have a chance to check it twice and take advantage of big sale days. You'll also avoid the need for rush shipping or the sadness of missing out on the perfect gift.
6. Be a sentimental spender.
Like the old saying goes, "It's the thought that counts." So be thoughtful. Forget about hitting your set spending limits and focus instead on finding gifts that say to the recipient, I get you. Aim for items that are useful, encouraging, helpful or fun.
7. Rein in your spending in other areas.
You can find extra cash by skimping on regular expenses like food. When we're trying to make merry, grabbing takeout on the way home seems inevitable. But eating out adds up! Plan ahead by stocking meals in your freezer and keeping a list of favorite slow cooker dinners at the ready.
8. Give less gifts without hurting anyone's feelings.
You could split the cost of an expensive gift for your parents with all of your siblings. You might drop an everyone-brings-gifts-for-everyone holiday party and draw names instead. You could also organize a cookie exchange or an ornament swap. Everyone walks away with something new, and more importantly, no regrets.
9. Save a tree and some money, too.
Try the old brown paper packages tied up with string trick—and let your kids draw snowflakes and candy canes on top. Skip printed cards and record a festive video to send out by email. Then hit up your local thrift store, flea market or dollar store for lovely holiday decorations.
10.Make the most of the internet.
Check online for the best prices. Do a quick search for promo codes or coupons, and don't forget that many online retailers offer free shipping for a limited time during the holidays. Get your timing right and you might be able to take advantage of a sale, too!
11.Resist retail marketing.
Put up a few safeguards to help you avoid impulse buys. When you enter a store, do so with a mission. Stick to the plan, and when you see something you'd like for yourself add it to your own wish list.
12. Get creative.
Just a few minutes on Pinterest and you'll be overwhelmed with all the DIY Christmas options. Buy, make, and gift your crafts in bulk for ultimate savings. This works especially well for large group gifts for coworkers, teachers or friends.
What budgeting essentials do you follow during the holiday season?