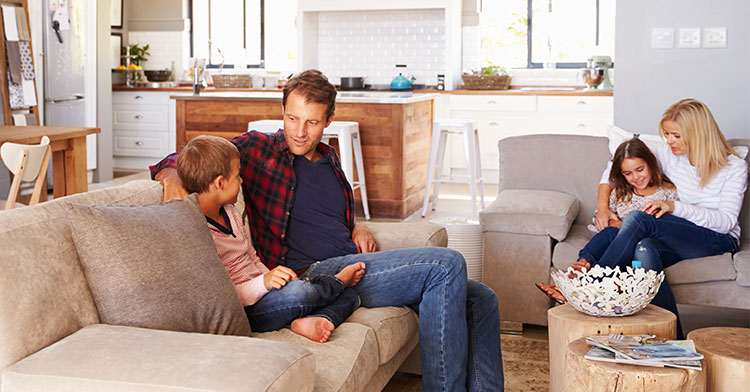 How to Not Feel Guilty About Spending Money on Yourself
Ever feel guilty about spending money on yourself?
Your budget is chock full of retirement savings, baseball uniforms and birthday gifts. You love these things, but maybe your frizzed out hair is begging for a cut and color. Or maybe you've been eyeing a cordless drill for months.
With everything your family needs in a month, it can put your wants on hold. Because in your mind, that's money you could be putting into your kids' college funds or paying off your house early.
Here's the deal: You don't have to choose between personal wants and family needs. Of course you'll cover your family needs first, but that doesn't mean you have to sacrifice all your personal wants in the process.
Find some "you" space in the budget with our seven guilt-free tips.
1. Save up your fun money. You don't need a new iPhone, but you want one. So start saving for it! Create a budget item for each family member to get a little bit of fun money each month. Figure out how many months of personal money you'll need in order to afford an upgrade. The beauty of fun money is it's completely yours. Buy what you want with it.
2. Use the clothing money. If your must-have is a luxury purse or brand-name pair of jeans, we have good news: You can use your clothing money on that. Just because you spend an entire month's clothing budget on one pair of jeans doesn't make you a bad person. Make sure it's something you really want and put it in the budget.
3. Find it cheaper. Who's to say you have to pay full price for what you want? Watch sales, buy refurbished, or fire up Craigslist. If you budget $50 for something and find it for $25, that's money back into other goals for the month.
4. Divide up the restaurant money. Want to eat out with some friends from work, but feel bad about using the restaurant budget? Here's a simple fix: Divide the restaurant cash into three separate items—one for you, one for your spouse, and one for the family. This way, you can spend your portion without any stress-induced indigestion.
Related: 5 Ways to Keep From Overspending on Your Restaurant Budget
5. Reconfigure the budget. Maybe you want to find money for an ongoing expense like a gym membership. This is where you rework the budget. You can always tweak certain areas to make more room. For example, can you reduce your weekly grocery bill by $20? That's just a couple meatless meals per week. Totally doable.
6. Say no to the kids. Are you constantly spending money on stuff for your kids but not spending any money on yourself? You might be missing out on a teachable moment. Encourage your kids to save for their own wants by doing chores around the house or, depending on their age, finding a part-time job.
7. Sell stuff online. If you've tried everything and still don't have enough for that mountain bike or the sunglasses you want, sell your old stuff. Facebook buy/sell/trade groups or VarageSale are easy places to find buyers. Post it today, and you might have enough for your shades tomorrow.
Related: 6 Ways to Make Extra Money on Your Own Schedule
There's no need to feel guilty about wanting stuff for yourself. Just look for smart, creative ways to work "you" into the budget. It's your money, after all. Enjoy some of it!
Ready to budget a little money to spend on you? Create a guilt-free budget in less than 10 minutes with a free EveryDollar account!