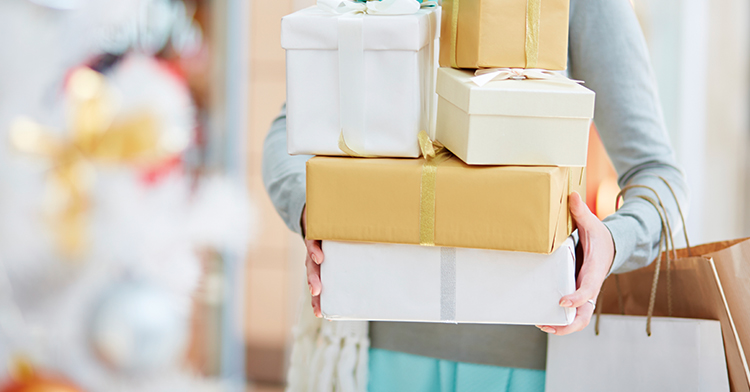 How to Avoid Holiday Impulse Buys
You're at the mall and surrounded by shelf upon shelf of Christmas cheer. Everywhere you look there are hot chocolate-filled mugs, Rudolph-themed dog clothes and evergreen-scented candles. It makes you happy and you want it all. 
Christmas shopping is so much fun because you get to buy for the people (and pets) you love! But that doesn't mean you should spend with abandon. That's a recipe for impulse buying—and overspending. 
So how do you look past those distractions and get what you went for? Here are five smart ways to enjoy the shopping season without paying for it later. 
1. Make Your Budget
First, figure out exactly how much you can spend on Christmas. Next, make a list of everyone you'll buy gifts for this season and write a dollar amount beside each name. Make sure the total amount balances to zero and you're ready to shop!
2. Ask This Question
Before you buy that adorable set of nesting Santas, pull in the reigns. Ask yourself, "Who am I buying this for?" Your answer will tell you if you should head to the register or not.
I'm buying it for Aunt Becky. If it's a gift for someone on your list, buy it. Just check your budget and keep it balanced.
I'm buying it for no one in particular. This will end up sitting in your closet until you give it to Goodwill in a year. Put it back. You'll thank yourself later.
I'm buying it for me. Do you love those Santas enough to add them to your wish list and wait? If not, either let them go or see if they fit into your holiday decorating budget. 
3. Call It Quits
Let's say you've been searching all day for the perfect ceramic travel mug for your Dad. No luck. Then for some inexplicable reason, you buy him bath salts from a mall kiosk—bath salts! Welcome to decision fatigue. This happens when you're so worn out, you'd rather buy anything than leave empty-handed. Next time you strike out, call it a day. You'll make much better choices after a good night's rest.
4. Look Away
Who hasn't grabbed a magazine or a candy bar or lip balm while waiting in the checkout lane? Unfortunately, you can't skip the lines, but you can ignore the strategically placed stuff by not looking at it! Put your eyes to better use by playing on your phone. Check emails, read a few articles, or scroll through your budget. If you can avoid browsing, you can avoid buying.
5. Keep Your Receipts
And if you've already made a few impulse purchases this season, don't worry. That's the beauty of receipts. If you have a tinge of I shouldn't have bought this ugly, pre-lit tinsel wreath, take it back. There's absolutely no shame in returning something you don't want or need. Remember to keep your receipts in a central location so they don't pull a disappearing act mid-season.
Stay in Control
It's easy to go into "shopping mode" this time of year and abandon your normal budgeting know-how. 
That's why it's so important to enter stores with a plan and steer clear of impulse buys. Imagine a Christmas without guilt, stress or debt. That's something to cheer about!
Create a Christmas budget that allows you to shop impulse-free this holiday season!