How to Upsize Your Home in 3 Steps
Here's a story about a couple with a real estate need—one that's super common today. When newlyweds Jake and Ashley bought their 1,200-square-foot house, it was just the right size for their life. But seven years and three kids later, their once-perfect home was bursting at the seams. They had two boys sharing a bedroom and all five family members competing for space in the cramped living room and kitchen.
Maybe you can relate. More than a third of all home buyers last year were families with kids, and 35% of sellers in their 30s said the main reason they sold their home was because it was just plain too small.1 Or maybe you don't have kids, but it's time for a bigger yard for the pups or more space for entertaining.
Whatever your reason for upsizing, there's a lot to consider if you want to sell and buy the right way. So start here—with three simple steps to help you upsize your home without downgrading your finances.
Step 1: See How Your Current Mortgage Fits
In any journey, you need to know where you are now so you can get to where you're going. Jake and Ashley started by digging into their current mortgage. Turns out they were super conservative when they bought their home and made a 20% down payment on the $125,000 house. (Bravo!) Their mortgage payment was a very doable $900 a month.
They'd already thought about buying a larger home for their growing family. But at that point they weren't ready for more mortgage. Yet.
Even though they wanted more room at that time, they didn't want to sign up for more house than they could afford, so they decided to up their income and their equity before moving. (Bravo again!)
If you're in a similar situation, consider this example. Don't become house poor, stretched to your budget limits, just for more space.
Step 2: Figure Out Your Potential Profit
Let's talk for a minute about equity. Equity is just the fancy word for how much your home is worth minus how much you owe on it. And it can be your best friend in the world of real estate. (Second only to an awesome real estate agent, of course.)
In the story of Jake and Ashley, their tiny home had appreciated (gone up in value) by about $15,000. But they still had $62,000 left to pay on their mortgage. So, after they subtracted that from the value of the home, they saw they had $78,000 in equity.


| | |
| --- | --- |
| Original Home Value | $125,000 |
| Growth in Home Value | + $15,000 |
| Current Mortgage Balance | - $62,000 |
| Total Equity | $78,000 |
After setting aside part of that $78,000 to pay their real estate agent's commission and cover the costs to move, Jake and Ashley knew they were looking at a potential profit of around $65,000. That's money they could use on their next home!
Maybe you're asking yourself, Am I sitting on that kind of equity right now? Well, it's hard to predict how much profit you'll make on your home. There are so many variables! Real estate trends are always changing, and home prices vary from state to state, city to city, and even neighborhood to neighborhood. But if you want a ballpark estimate, recent home sellers earned a median of $60,000 more than what they originally paid for their home.2 Cha-ching!
On the other hand, one report found that about 2 million homes with a mortgage have negative equity—which means the homeowner owes more than the home is worth.3 Selling a home with negative equity is a bad idea: Instead of making money to put toward a bigger home, you'll end up losing money. Yikes!
So, check with a reliable local real estate agent to learn how much buyers are willing to pay for your home. Then you can decide whether you've built up enough equity to sell now or if you need to wait a little longer.
Step 3: Set Your Budget and Look for a Good Deal
Everything comes down to the budget. Always. With Jake and Ashley, they crunched the numbers and decided they could afford to purchase a $265,000 home. But when they bought a home below their budget the first time, it really paid off for them in the long run. Literally. So they planned to go below budget the second time too.
They set their home-buying budget to $215,000–235,000 and asked their real estate agent to keep an eye out for homes other buyers may have overlooked. Doing that means they wouldn't have as much competition, and hopefully, they'd get more home for less money. And of course, there's a great long-term benefit of buying a less-expensive home: With a smaller budget, they'd keep their monthly payment at a doable $1,300–1,600 on a 15-year mortgage. Less mortgage month to month. Quicker mortgage payoff. These are incredibly wise budget moves.
If you want your new home to be a blessing and not a curse, never get a mortgage with a monthly payment that eats up too much of your income. Before you buy a home sweet home, follow the important numbers in the chart below.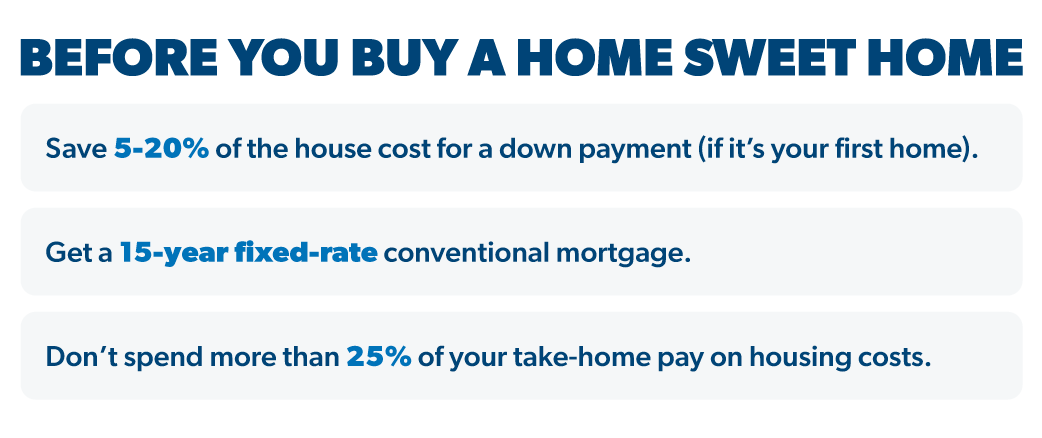 To pay off your house faster and avoid paying private mortgage insurance (PMI), plan on making a down payment of at least 20% of the home's value. If that sounds too steep, you may decide to go with a smaller down payment—but never put down any less than 10%. Never. You'll be charged out the wazoo in interest and fees and feel like you'll never pay off your home.
Be kind to your budget by keeping the monthly payment to no more than 25% of your take-home pay on a 15-year fixed-rate mortgage—including PMI, any HOA fees, property taxes and insurance. Check out different home prices with our mortgage calculator to see what the monthly payments would look like.
In the end, you might realize you don't have to max out your budget to find the kind of home you want—especially if you're a repeat buyer with a large down payment like Jake and Ashley. Keep in mind that buyers often compete for move-in ready houses, which drives up their prices. If you take a look at the neighborhoods you like and target below-budget houses that need a few simple upgrades, you could end up saving some serious cash when all's said and done.
Moved Up and Moved In
Plenty of people are looking for starter homes like Jake and Ashley's. That's why their home sold quickly, at asking price no less!
So, let's finish their story. They found their new home in a nice neighborhood and in a great school district. After putting $45,000 down on a $225,000 four-bedroom house at a 4% interest rate, they were able to pay cash for a few well-chosen upgrades and keep their monthly payment to around $1,600.
| | |
| --- | --- |
| Purchase Price | $225,000 |
| Down Payment | $45,000 |
| Upgrades | $20,000 |
| Monthly Payment | $1,600 |
Moving on up to a home that better fits your life might feel a little overwhelming. Honestly, there's a lot to consider before you're ready to buy and sell—and you want to make sure you make the right moves along the way. But you don't need to worry. You just need to get an experienced real estate agent. We're talking someone who'll help you price and sell your current home on your timeline and guide you in your search for a new home on your budget.
We know people like that! Get in touch with a top-performing real estate agent in your area so you can make the right move for your budget, your goals and your life!