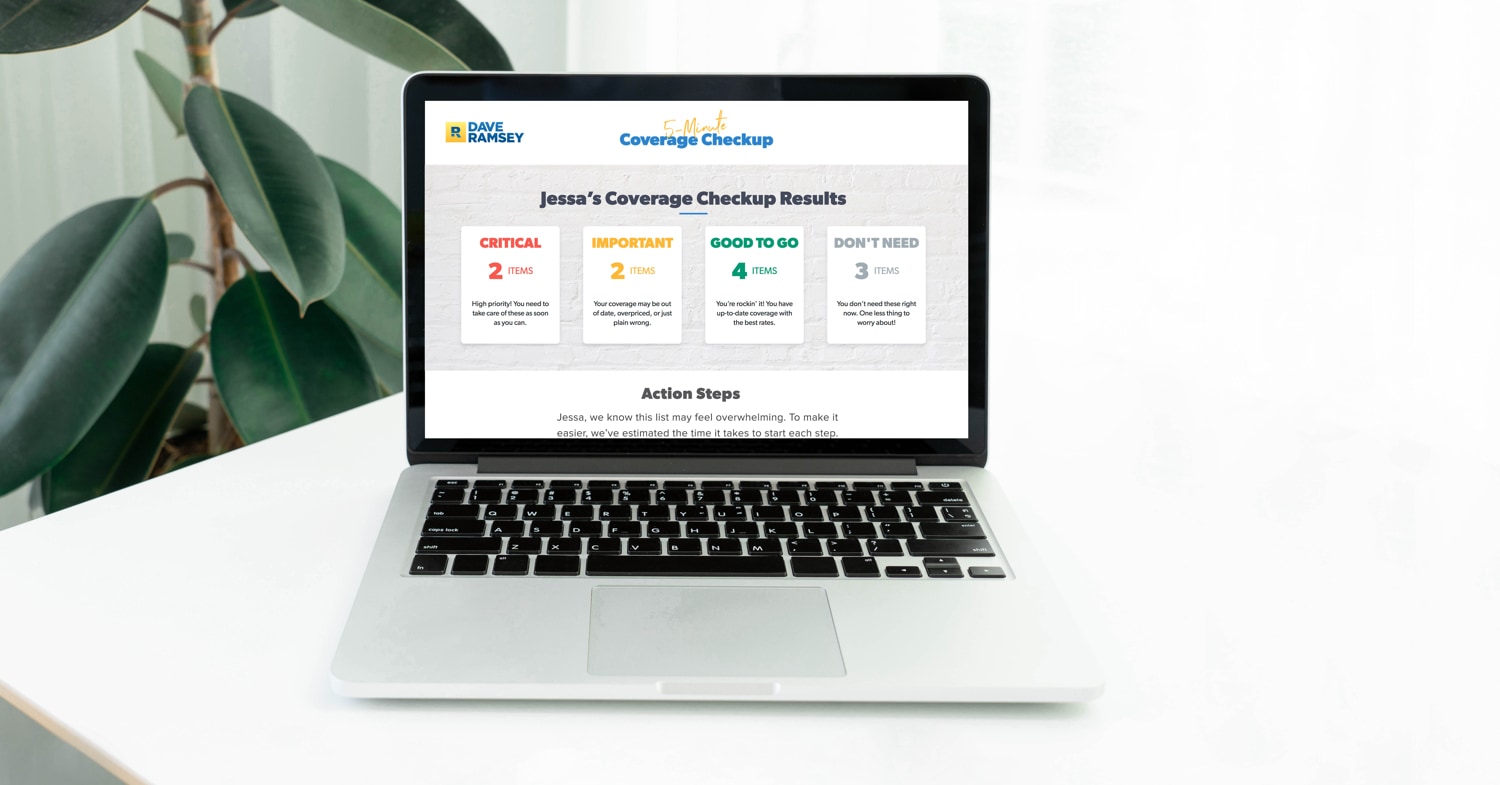 November Challenge: Take Our 5-Minute Insurance Coverage Checkup
What's confusing, stressful and often expensive? Probably at least five things (or people—let's be honest) popped into your head. But the one we're talking about is insurance.
Insurance: noun. 1. Coverage by a contract for reimbursement covered under said contract, usually against loss or damage by an event such as death, fire, accident, sickness, or other such horridness. 2. Something you know you need, but don't really understand. 3. A sign you're adulting.
Well, we have good news! You don't have to be an insurance expert to be well insured. (Thank goodness!) But you do have to be proactive.
Which brings us to our November Challenge! Try our new 5-Minute Coverage Checkup. It's easy, quick and clear: three of our favorite words in this hustle-and-bustle world. Plus, you might even save some cash: three more of our favorite words.
But what is this Coverage Checkup? Does it really take just five minutes? Is it easy?
Let's address all your concerns and give you a little heads-up on what the tool provides.
1. What is this 5-Minute Coverage Checkup thingy?
This online tool asks you questions about the kinds of insurance and coverage you have as well as the last time you checked in on your policies. The 5-Minute Coverage Checkup shows you what you need (and don't need), which questions to ask, and where to get the best coverage.
2. What are some examples of the questions I'm going to get asked?
You'll be asked your name, age, the types of insurance you have, the last time you checked in on those policies, if you own a home, if you have a will, if you've reviewed your credit report recently—and other questions like that. Everything relates to making sure you're solidly secure.
3. Does it really take five minutes?
Well. Yeah. Or less, in some cases. It's so quick! That's nice, because you have way too much on your life plate already. So go ahead and plan to pop two bags of popcorn back to back while you go through the checkup. You'll have one minute left over to pour yourself a celebratory glass of sparkling, flavored water to go with it.
4. Okay. It's quick. But is it easy too?
Yes! We tested it on people who know very little about insurance, and they made it through in one piece. They were no worse for the wear and survived without even being the fittest. Terms are defined right there on the screen to guide you. No matter your insurance knowledge, we promise it'll be easy.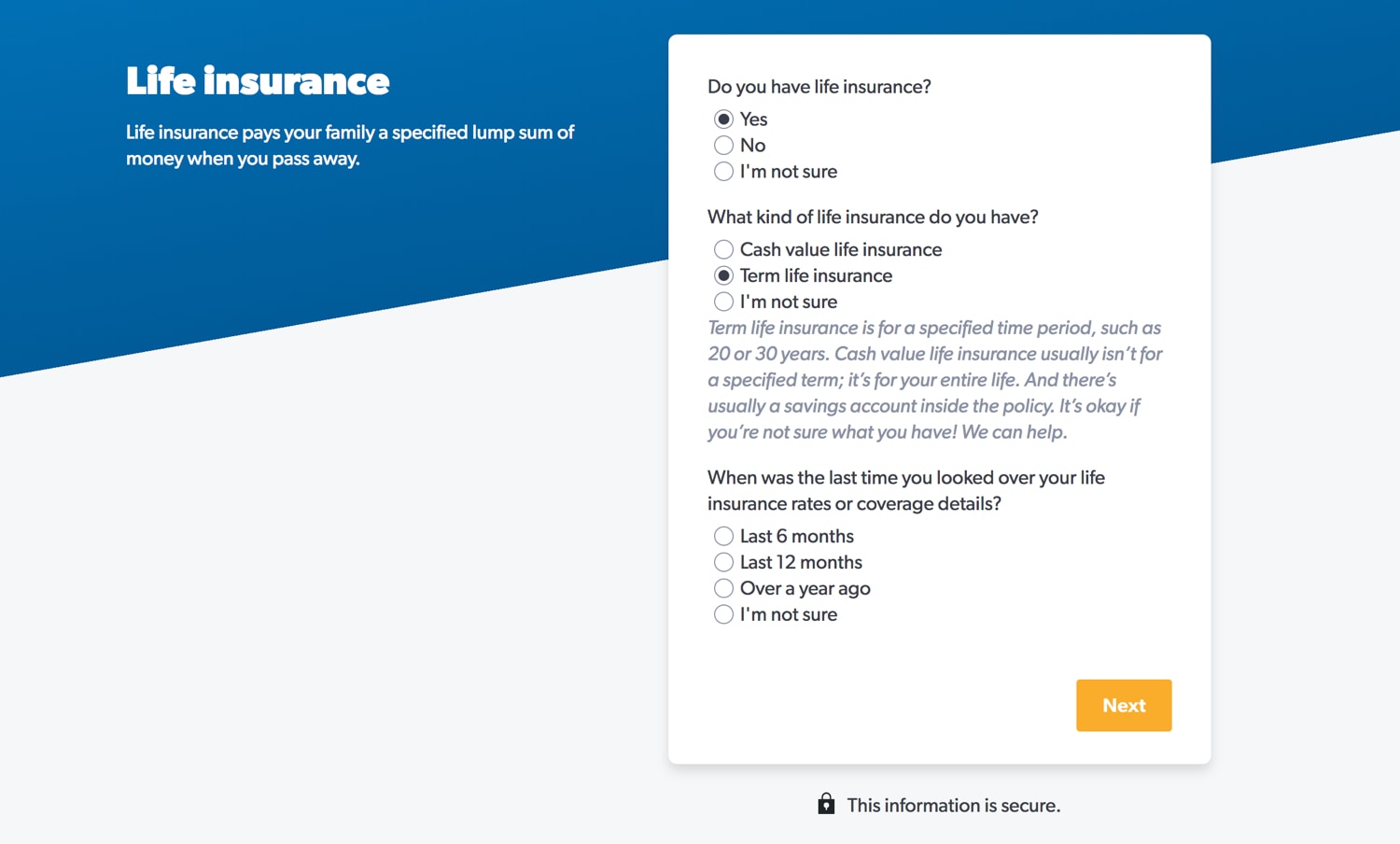 5. What do I get from the 5-Minute Coverage Checkup?
When you're done answering all the questions, you get a handy chart that breaks down your results into CRITICAL, IMPORTANT, GOOD TO GO, and DON'T NEED. You'll get an email with clear action steps to make sure you have all the coverage you need! We've even included links in the results email so each step is just a couple clicks away.


Checking up on your insurance to make sure your coverage is just right is not at the top of your fun-things-to-do list. But it should be at the top of your priority list.
We know it's confusing; we know you're busy; we know you're worried you might not be able to afford the coverage you really need. But what if you're overpaying? Don't you want to know? And what if you're missing some important protection?
It's worth five minutes of your time to make sure you're doing this insurance stuff right. We've made it simple, swift and straightforward. Now it's up to you!