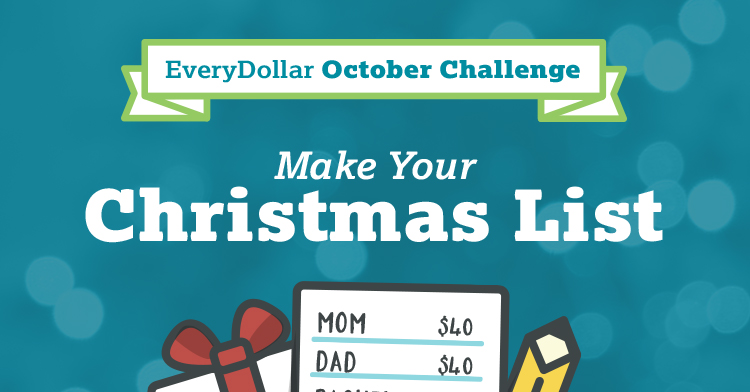 The EveryDollar October Challenge: Make Your Christmas List!
Christmas is right around the corner. Can you believe it?
Even though the Christmas season is just two months away, you still have plenty of time to prepare. And we want to help!
During October, we're hosting the Christmas List Challenge. We'll be making our holiday gift lists, and we'd love for you to join us!
Here's all you have to do to be a part of the challenge:
Determine the total amount you can spend on Christmas gifts this year.
Decide who you want to buy for and, based on your total amount, how much you want to spend on each person.
Divide your total Christmas budget by three, and set aside that amount each month for Christmas savings.
That's it! Once you've completed these three steps, you've completed the Christmas List Challenge. Now it's just a matter of stress-free shopping and sticking to the budget you've set.
Don't lose focus, follow your budget, and this could be your easiest and least-stressful Christmas ever!
Go celebrate and spread the word! Challenge your friends and family to complete the Christmas List Challenge on Facebook and Twitter by tagging EveryDollar in your post and using #EveryDollarChristmasList.
Happy holidays … and happy budgeting!