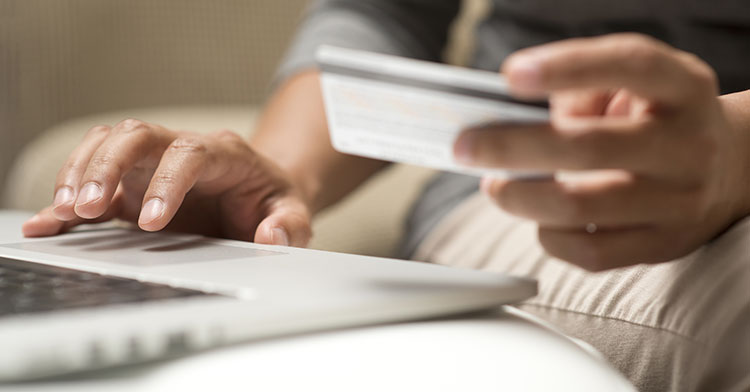 What You Need to Know About Online vs. In-Store Shopping
More and more retailers are offering free shipping or online-only sales to attract shoppers. But it seems 90% of shoppers still prefer to shop in an actual store. What gives?  
Good question! With the holiday shopping season upon us, it's a great time to compare online versus in-store shopping—and to ask yourself if you're getting best bang for your buck.
Before you decide whether to fight the crowds or shop from the couch, give yourself a budgeting advantage by knowing the pros and cons of each. Remember, your time is worth something too!
In-Store Shopping
Pros
You can try before you buy. It's a universal fact that jeans never fit right. You wouldn't dream of buying them online because you need to try them on first. Plus, you can actually see the "dark wash" in person—instead of hoping the color square on your computer screen is accurate and then dealing with the cost of return shipping.
You can speak with a human—and ask that human for discounts. Sales clerks can answer your questions and even offer you discounts on discontinued or flawed items. When it comes to appliances or furniture, floor models can be a great deal too!
You can leave with your item immediately. Time is money, right?There's no waiting on an order to arrive. It's in your hands at the end of your trip.
It's a mini-vacation. Target is your Bermuda Triangle. You look forward to getting "lost" for a few hours.
Cons
You have to drive. Unless you're lucky enough to live in a walkable city, you probably have to drive to your favorite shops. That means more gas money and more traffic.
You could end up spending more than you planned. How many times have you gone out for a pair of socks and ended up with a cart full of dog food, discounted nail polish, and a giant bag of gummy bears? 
They might not have what you want. The store you go to may be out of the size or the color shoes you want. But another location has them—across town. Now you're tired, hungry, and no closer to buying anything but a Big Mac and chocolate shake to calm your nerves. And you got out of your PJs for this!
Online Shopping
Pros
Comparison shopping is easy. You can price shop at five different stores in a matter of minutes, if not seconds. Try doing that in your SUV!
You won't need pit stops. Since you aren't store-hopping for hours, you won't need to refuel your gas tank or fill your grumbling stomach.
You won't get as distracted.  It's no surprise that in-store marketing techniques like music, scents, lighting and sales assistants all make us want to spend more money! Online shopping means fewer emotional buys.
It's convenient. Thanks to smartphones, your "mall" is only a swipe away.
Cons
Shipping can get expensive. Having something shipped to your door is convenient, but it's not always free. Plus, if that throw pillow doesn't match your rug, you'll have to cough up more money to return it.
The options are overwhelming. Your choices are limitless. It's easy to get overwhelmed with product reviews and ratings and end up paralyzed with indecision. When you finally order, you have to pay $20 for overnight shipping because your spouse's birthday is tomorrow!
They have your email address. You can bet three weeks from now you'll get a targeted 25% off email for those sweaters you put in your cart. And you'll be tempted to buy more (and then some).
Shopping is shopping, wherever you do it. So before you head out to The Décor Superstore or log in to Etsy, set your EveryDollar budget first. And don't go over it for super-fast shipping or because a sales clerk talked you in to it. It's your money. You decide who gets it!
Create a free EveryDollar budget to make room for spending money no matter where you shop!