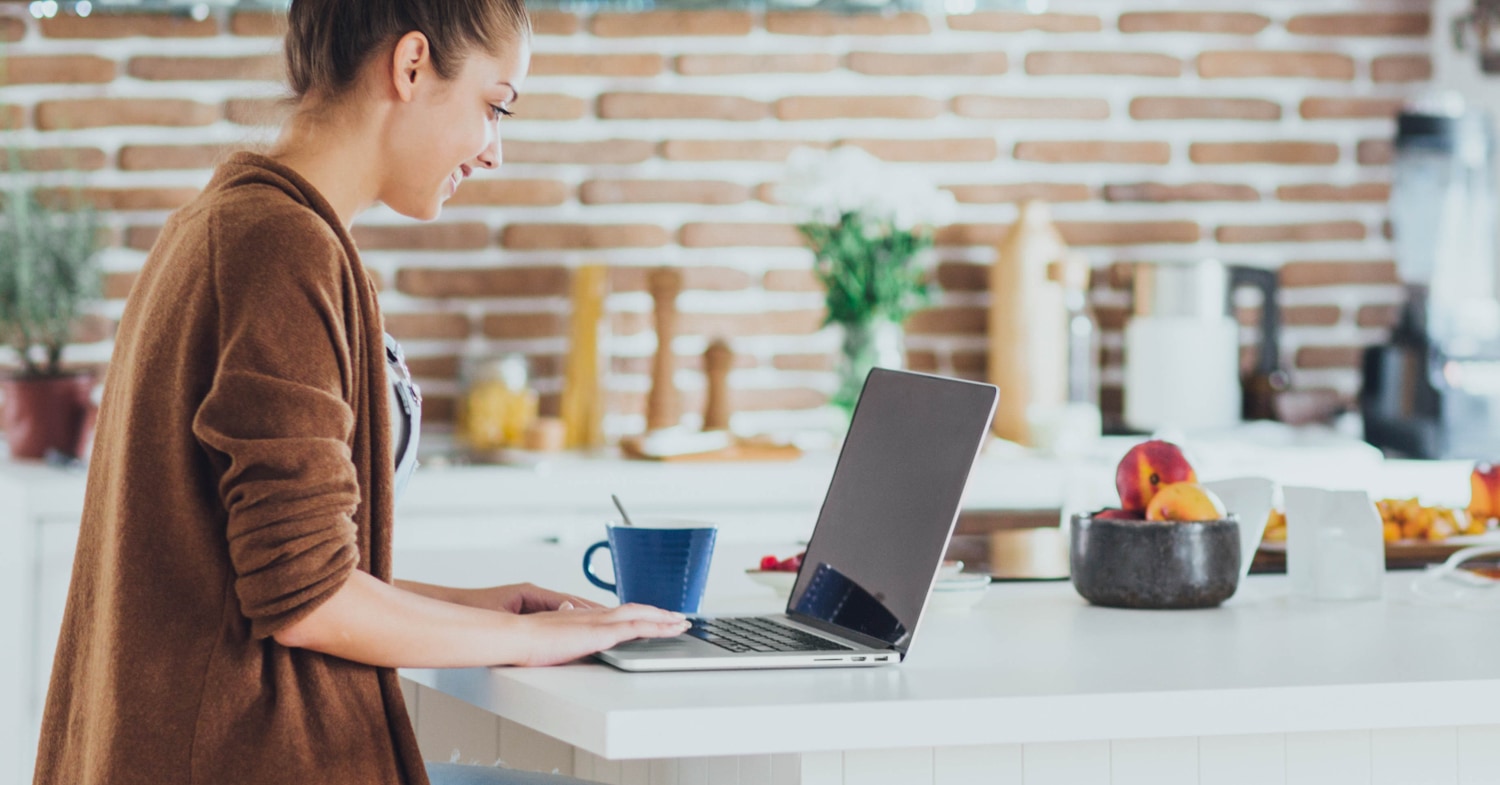 The Pros and Cons of Online Grocery Shopping
With online grocery services cropping up all over the place, you can fill your shopping cart from the comfort of your couch! And depending on the service, you'll either receive those kitchen staples at your house or in your car.
That's a lot of time and energy saved for a whole lot of shoppers.
But does online grocery shopping save money too? First, let's take a look at the facts. Then, we'll share what EveryDollar budgeters have to say about getting their groceries online.
Why Grocery Shop Online?
Like taking photos with your phone or reading books on a tablet, buying food without actually touching it might seem like an unnecessary idea at first. After all, grabbing groceries for the week ahead is one of the most basic chores of adulting. We can at least do that, right?
If you're still on the fence about online grocery shopping, consider the old adage: Time is money. When we choose to buy our food online, we aren't forgoing an easy task—we're making room for another, more important (or more fun!) task.
Of course, money is money too. And we all get a say in how we spend both our time and money. To help us prioritize appropriately, we'll use the trusty pro-con list.
The Pros of Online Grocery Shopping
1. You can shop on your timetable. No need to check store hours! Place your order after the kids are in bed, on your lunch break at work, or while catching up on the latest Netflix original.
2. You can check (and double-check) your inventory. Forget about calling your spouse from the spice aisle. Purchase your food online, and you can avoid duplicates with ease and save money like a pro!
3. You can compare prices in a pressure-free environment. Ever find yourself sweating in the cereal aisle with a crying toddler in your cart and four other shoppers breathing down your neck? No more. Now you can make your decisions one product at a time, bringing your total costs and your anxiety way, way down.
4. You can stick to the list (and save even more money!). We don't know about you guys, but a trip around the grocery store makes us feel like we've earned that half gallon of ice cream, extra bag of potato chips, and candy bar or three. With online grocery shopping, impulse buys are a thing of the past.
5. You can rest in the fact that convenience reigns supreme. Picture this: You're at home, enjoying the afternoon when your doorbell rings. It's your groceries! And you didn't have to drive to the store or walk up and down a single aisle.
The Cons of Online Grocery Shopping
And now, here are a few reasons online grocery shopping might not work for you—and what you can do about it:
1. You have to think ahead. No more stops on the way home from work or last-minute dinner decisions. But that's okay! Meal planning offers built-in budget savings and makes buying groceries online a breeze!
2. You don't get to pick perfect produce. If you'd like to make guacamole in three days, you'll want firm avocados, but how will your shopper know that? Shop around for services with shoppers you can trust, and if you're still a bit anxious, look for options that offer interaction throughout the entire buying process.
3. You might not get everything on your list. Of course, this can happen when you shop for yourself, but it feels a bit more frustrating when you're not doing the shopping. You can get ahead of the annoyance by planning quick, back-up grocery runs and allowing substitutions.
4. You might see fees cut into your monthly grocery budget. Even a few dollars here and there add up over time. You can forgo the fees by doing the work yourself or choosing a free service, which is possible when you pick your groceries up instead of having them delivered.
5. You won't have the "joy of the hunt." Laptops and phones aren't the most tactile of objects—you can't feel an apple through your screen. You also might miss out on deals and coupons only available in the store. If that's a deal breaker for you, consider buying the basics online and visiting your local farmers market for fresh fruits and vegetables and your local grocery store for a good deal.
Here's What EveryDollar Users Say About Buying Groceries Online
1. Everything in balance.
"I love online grocery shopping! My favorite thing is seeing my balance while I shop. I can delete things I don't need at the end to stay within my budget."
– Chelsea V.
2. Fear of missing out.
"I used to do online shopping and would pick up my order at the store. They would bring the groceries to my car. I found it very convenient, which justified the $5 fee. And it was easy to see my total before purchasing. However, over time I discovered that I was missing out on sales, markdowns that only happen in the store, and manager's specials, which often are marked down by 50%. Overall, I've cut my grocery budget by half by shopping what's on sale, making a meal plan for each week based on that, looking for extra deals, and being flexible in my plan."
– Jennifer R.
3. Less distractions for you and your kids.
"I save because I don't wander around the store picking up items I don't need and my kids don't ask for extra things. Also, even if I didn't save money it would be worth the amount of time I save, which frees me up to work more! (I own my own business.)"
– Kristi P.
4. Simple price comparisons.
"It's great. We use Shipt sometimes in Ft. Worth and have stayed within budget. My wife, Chelsea, is actually great at comparing and remembering deals, and sometimes she buys groceries at two or three places and saves big money."
– Michael M.
5. The sky is the limit.
"I've started using Kroger's ClickList. I include the $5 fee in my total so I stay within my weekly budget. It helps me stay on track because I only get what is on my list and can take my time comparing prices and products without feeling like I'm taking too long or in other people's way. I can also limit substitution options so I get exactly what I ordered. This week I forgot to order our groceries so I stopped on the way home. I made way more impulse buys and went over budget because I was distracted and not limiting myself."
– Emalee G.
6. No impulse buys.
"I definitely save by using a meal plan and Walmart's pickup service. No impulse buys! I'm still working on making sure I have staples on the list, but it's definitely saving us money."
– Laura B.
7. Same digital coupons, more convenience.
"I just recently started using a service where I order my groceries online and have them delivered to my car. I love it! My store lets me use digital coupons like I would in the store, so I don't lose out on those savings. I'm doing it as a sort of experiment right now, but I have a feeling it's going to save me money since I'm not distracted by my children and buying things last minute that aren't on my list. But even if it isn't any cheaper, the convenience might still be worth it!"
– Kelly R.
8. More time and money.
"We use Walmart grocery and their Savings Catcher. (You scan your receipt via the app, wait a few days, and get a credit if any competitors in the area had a better deal on any item.) I love it! It cut our grocery bill by an average of over $10 a week. It completely removes impulse buying, and it's a huge time-saver. We took the plunge and cut our grocery category formally via the budget and EveryDollar a few weeks after noticing the difference. It's absolutely worth a try!"
– Edi P.
9. Meal planning made easy.
"I love grocery delivery! It does save me money because it keeps me from spontaneous shopping. And it requires me to plan our meals in advance. I love it!"
– Dawn P.
10. Quality time together.
"My husband and I haven't used [online grocery shopping]. Our favorite thing to do is go shopping together on the weekends. He actually gets super bummed if our weekend is too packed and I have to go by myself on Monday."
– Stephanie N.
The bottom line is: Do what works for your family and is best for your budget. If you enjoy grocery shopping and scouring the aisles for deals, go for it! Otherwise, see if a service is worth checking out—it may just save you time and money.
No matter how you choose to shop, keep track of your grocery spending with EveryDollar. That way, you'll know exactly how much you can spend before you go to the store or shop online..