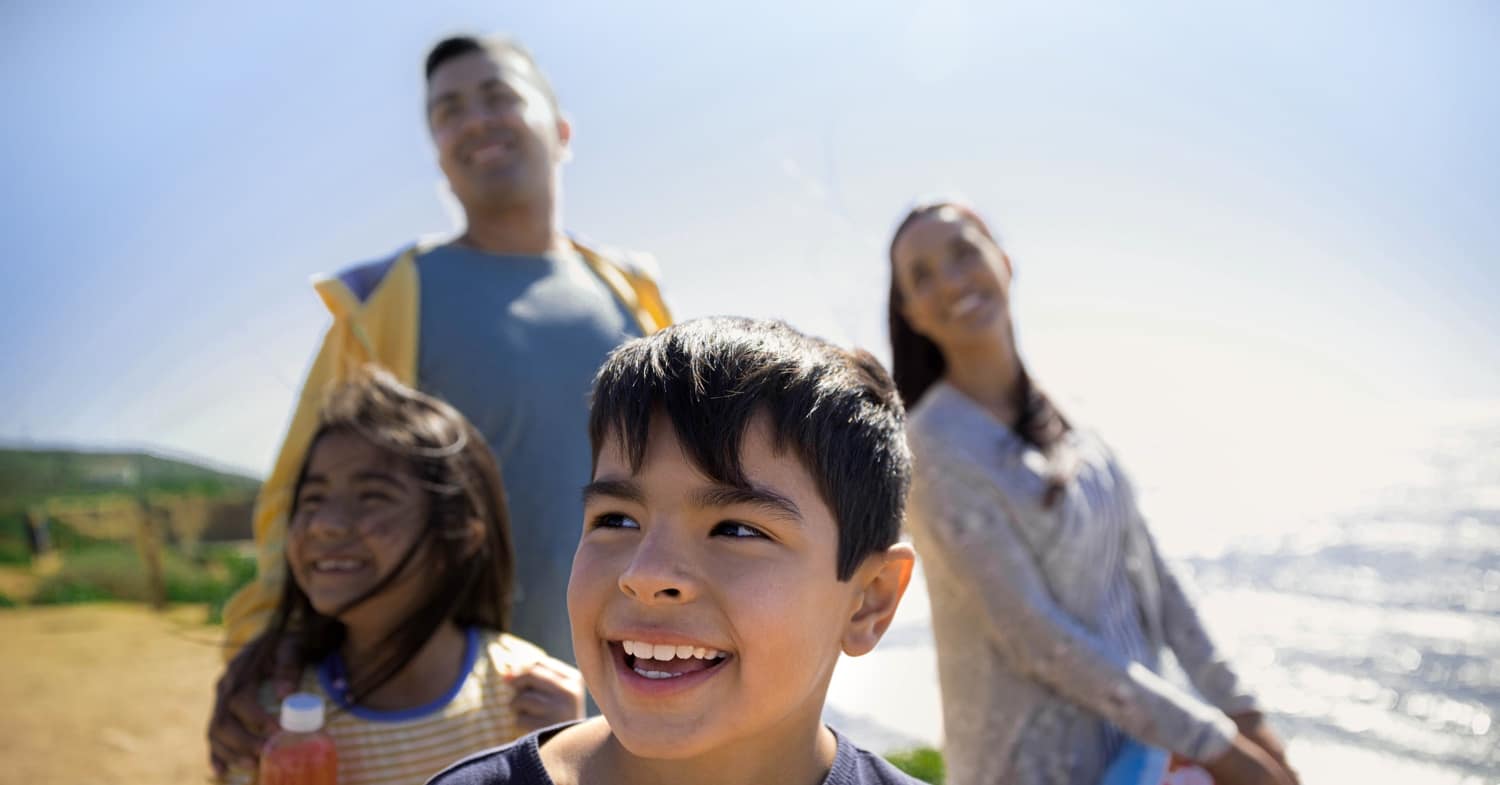 How to Travel Cheap: Save $1,000 (Or More!) on Your Summer Vacation
Summertime brings visions of driving with the windows down. Chasing fireflies as evening falls. Roasting s'mores over the firepit. Sweating in the supreme heat and smacking mosquitos until your hand goes numb.
Okay. So summer isn't all perfection. Even the iconic summer vacation can leave people feeling numb from the weight of debt. Maybe the majority of Americans vacay that way, but not you. You can see beyond this one getaway into the bigger picture of your full financial future. So come home memory-filled and debt-free.
Here's how you can travel cheap and save $1,000 (or more!) on your summer vacation.

Save on Travel
The best days to book your flights are on Tuesdays and Thursdays, at least 30 days in advanced, but no further out than three months. The best days to fly are Tuesdays, Wednesdays and Saturdays. We know this because our financial expert friend Rachel Cruze (who calls traveling her love language) gave us the lowdown.
Rachel also recommends to always compare prices when you're picking your airline. Always. You can use Google Flights, Hotwire or Priceline. For budget airlines like Southwest, Spirit and Frontier, you have to go straight to their website. But it's worth all the online searching to make sure you get the best deals.
The last tip on airfare savings is to keep your eye on all those extra fees—mainly baggage. Most of us don't go on vacation without bags. Airlines know this, and many of them pack on a luggage fee. So one airline's ticket may seem like the cheapest, but they may charge per article of clothing or something ridiculous like that, which would make them cost far more in the long run. Read the fine print for any and all fees.
Spending lots of time on the interstate? Cut back on all that pedal pushing by turning on your cruise control. You'll save on gasoline and leg cramps. Also, keep your tires inflated and the oil fresh. A well-working car is a gas-saving car.
When you need to fuel up, check out GasBuddy, which searches your local area to find the cheapest gas prices around. Google Maps also shows prices when you look for gas stations. And don't forget to use your gas rewards if you've got a supermarket loyalty card.
Don't pay full price for a car rental. Find savings by installing a coupon finder like Honey onto your web browser. It automatically looks for coupons based on the car rental website you're on. You could score a savings of 5–10%! (Thanks, Honey. You're sweet.)
When you're narrowing down options, think about gas mileage. A souped-up SUV or ultra-swank luxury car may seem cool, but they'll cost more to rent and guzzle the gas harder than a runner chugs electrolytes at the end of a marathon.
Check your own car insurance policy to see if it covers you when driving a rental. You don't want to pay for rental insurance if you don't need it!
And do not put your rental on a credit card. Adding credit card interest to the rental costs is crazy talk. Find a company willing to work with you and your debit card, like Dollar Car Rental.

Save on Hotels
Shop for your hotel room on a Friday or Saturday. These aren't the cheapest days to stay in a hotel, but they are the best days for you to do the actual booking.
The cheapest days to stay in a hotel are during the week. Check in on a Sunday, the cheapest day, not a Friday, the most expensive day. (Thanks for those tips too, Rachel!)
It makes sense, if you think about it. Most of us work during the week, so we're more likely to head out on our getaway the minute the clock strikes weekend-o-clock on Friday. But if you're able to adjust your plans, you can pay a lot less for your lodging.
Speaking of lodging, hotels aren't your only option. With Airbnb, you can rent out spaces ranging from one room in someone's house to your own hobbit hole, farmhouse, stationary glamper van, or downtown apartment. Plus, you can always contact the owner directly and ask for a deal. All they can say is no.
Group Travel: Split the Costs
Another great way to save money on lodging is to travel with friends. Split the price of the hotel, hobbit hole, farmhouse, stationary glamper van . . . you remember. If you've got some friends or family members you like enough to share the memories, rates and accommodations with, you can lower costs and maximize the fun by traveling together.

Save on Food
If you stay in a place with a kitchen, you can grocery shop so you don't eat out every meal. When you do eat out, mix in a few places that don't have servers so you don't have to pay that extra 15–20% on a tip. Because not tipping your server is not an option, people. But eating places where you order up front or self-serve—that is an option.
Hitting the drive-thru en route or grabbing snacks in the airport kiosk are both easy options. But they're also far more expensive than packing your own. Load up on snacks (making sure they're TSA approved if you're flying). Make your own sandwiches and fill up the cooler before you start your car ride.
The most important tip for saving on food is to budget how much you'll spend on this part of your vacation. Follow that up with sticking to that planned amount. If you've got EveryDollar, you can quickly track every food transaction throughout the trip. Do it as soon as you get your receipt. It takes about a minute and keeps you constantly updated on you how much you have left to spend.

Save on Entertainment
When you're visiting a city near a theme park, those roller coasters, drop towers, and water slides might start calling your name. We have nothing against theme parks, but if you want to save money, visit a natural park instead. Often, they cost absolutely nothing. Before you leave, look online for other free or low-cost attractions like hiking trails, festivals, local parks, government museums, or outdoor concerts.
Check out Groupon and LivingSocial for deals on tours, spas, restaurants and other experiences. Search restaurants and attractions in the area and sign up for their emails. You can unsubscribe later, but you might get some golden deals in your inbox pre-travel. Worth it.
Save With Membership Deals
Did you know that some zoo and aquarium memberships are part of the Reciprocal Admissions Program? That means a membership to one could mean free or discounted entry at many others. Find out if your membership is koala-ified for this perk. (Sorry, we know that pun was un-bear-able.)

As our friend Rachel Cruze says, "All I want following you home are the memories and the pictures on your iPhone. Not the credit card bills." Yeah, you don't want bills haunting you like the ghosts of vacations past.
Maybe it feels like you aren't living your best life when you limit your spending like this. But listen: Your money goals are bigger than one summer vacation. Your fierceness is stronger than the temptation to show off on social media.
You're living differently. But it will be worth it.
Start with an EveryDollar budget to make all your money plans—for vacations and everything else in life. That's how you get away without your money getting away from you.