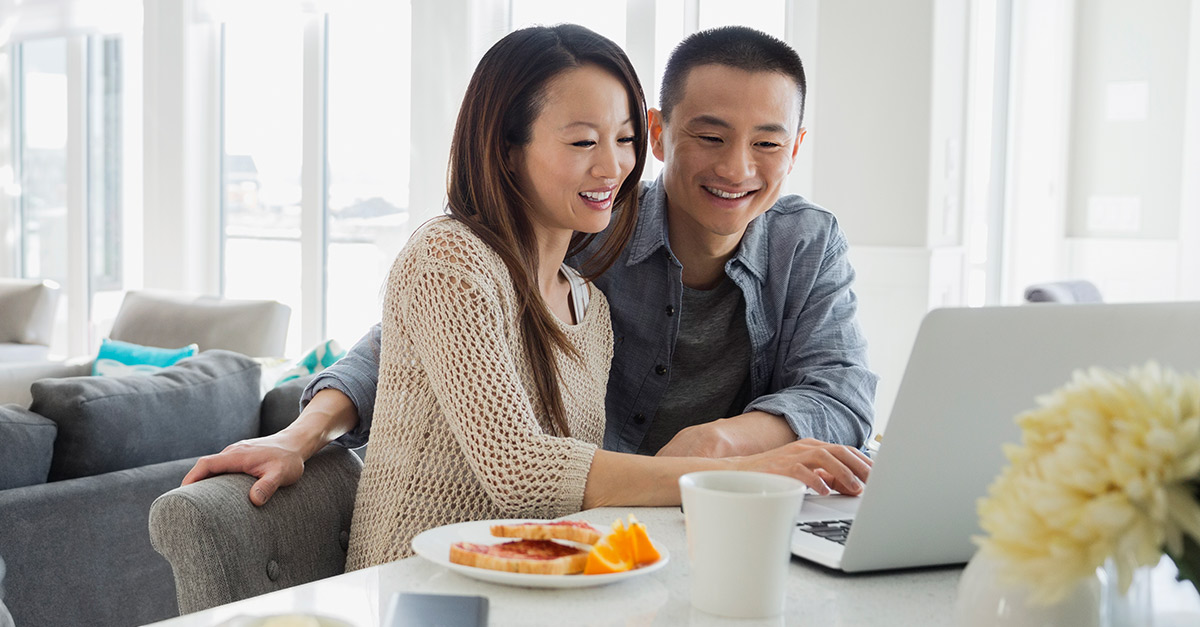 The Monthly Budget Date: How to Talk About Money With Your Spouse
Ever experience one of those moments in marriage that really catches you off guard? The moment when the person you're most comfortable with sets your heart aflutter even though you know them so well. And out of nowhere you get sweaty palms and your words don't come out right.
Oh yes, you've got butterflies—the budgeting butterflies. Do you ever get those? There's a nervous excitement that happens when talking about money with your spouse. And hey, that's normal.
Still, we think it's worth pushing through the awkwardness. A recent study found that couples are happier when they discuss money on a regular basis.¹
One of the best ways to make budgeting a normal topic of conversation in your home is to incorporate it into a date night. We'll show you how!
Budgeting and Date Night . . . Isn't That a Mood Killer?
Yeah, we get it. Talking money over a candlelit dinner doesn't sound very enticing. It seems—until you try it—to be the ultimate oxymoron. But trust us! Dreaming about your financial future with your spouse has the potential to be really fun and romantic!
After all, by talking about money now you're setting yourselves up for good times in the future. Plus, you're warding off the number one predictor of divorce in America—money fights.² Ooh la la!
You can decide up front to have a great time on your budget date by avoiding the following:
A stiff atmosphere
Accusatory tones
One-sided conversation
Instead, choose to make your time together as positive and productive as possible.
How to Plan a First Budget Date You'll Both Enjoy
Perfect your pickup line. You know your spouse better than anyone else, so you have background information you can use to woo him or her. Consider how your spouse feels about the idea of budgeting. Does he hate numbers and restrictions? Appeal to his sense of adventure. Is she the one who pays the bills and makes the money decisions? Surprise her by initiating the conversation.
You might say to your spouse, "I was thinking the other day about how one of my favorite things is to sit and talk with you. I love when we dream about the future and learn something new about each other in the process. Would you like to do that sometime soon without the distraction of kids or chores? We can make a date out of it!"
Set the stage. Do the normal "date night" stuff—clean up, wear that dress he loves or the shirt she bought you, and spritz yourself with a little smell-good. Then go the extra mile. Get the EveryDollar app on your iPhone or Android and complete a budget a few days in advance. If you have kids, schedule a sitter or ask the grandparents to watch them. If all else fails, set up a nice evening date on the deck or by the fireplace.
If you can leave the house, visit your local coffee or ice cream shop, grab dinner at a quiet restaurant, or walk through your favorite park. Pick a place that puts you both at ease—one that gives you the opportunity to really talk and, more importantly, to hear one another.
Make the most of your time together. Begin your date with a sincere compliment for your spouse and a question unrelated to money. Talk for a bit. Laugh, relax and—whenever you're ready—strike up the money conversation.
Share your biggest hopes for the coming year and listen as your spouse shares theirs. Take your time, ask clarifying questions that encourage a thorough response, and consider what role finances play in reaching your goals. Then, and only then, discuss the details of your budget. Keep an open mind as you scroll through EveryDollar together to finalize your money plan for the next month.
End the date on a good note. After all budget compromises are made—with good attitudes, we hope!—it's time to talk strategy for the weeks ahead. Decide how you'll stick to the budget and how you'll celebrate this milestone at month's end.
Before returning to the fun of the evening, make plans to go on another budget date next month. That's right—be consistent! Now, if the budget date is the only time you and your spouse have alone, may we suggest adding a "date" category to your EveryDollar budget so you two can go out on the town more regularly—and ASAP? You'll thank us later.
Move Forward in Money and Marriage With a Year of Budget Dates
The best parts of your union are those that continue to grow with time. Get to know one another better with each budget date by following the conversation prompts below. Simply find the current month and dive right in!
January: What do you imagine our life will look like in 20 years?
February: When it comes to our finances, I could use some help in the area of . . .
March: If I showed up on the doorstep with a bouquet of dollar bills, how would you spend it?
April: Let's brainstorm! How can we make budgeting easier for our family?
May: What money lessons do you hope to pass on to our kids?
June: What strengths do you think I bring to our financial situation?
July: I wish we spent less money on . . . I wish we spent more money on . . .
August: How could we better organize and store all of our money-related documents, passwords and contacts?
September: What were your parents' views on money when you were growing up? How do you think this affects your view of money now?
October: How do you think we could up our savings game?
November: How can we prioritize the holidays so we spend less money and more time together?
December: What are your big money dreams and goals for next year?
Of course, you don't have to wait until April to brainstorm budgeting ideas or October to kick your savings into high gear. If a particular topic is calling your name, answer the call!
What are you waiting for? Sign up for a free EveryDollar budget, and schedule a budget date night!