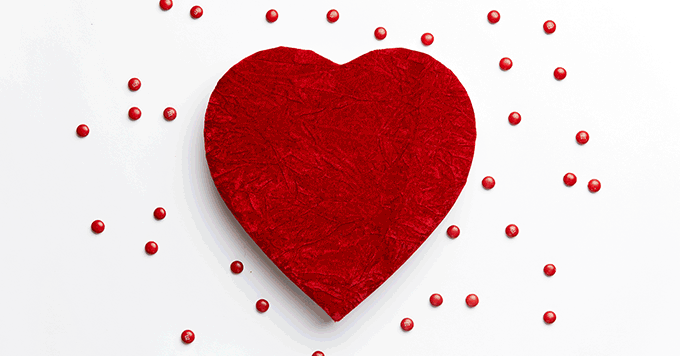 Remember These 6 Things in Your February Budget
February's the month of love—for sports, dead presidents, helpful tax professionals, seasonal cookies, best pals, significant others, and your EveryDollar app. Wait. That last one is adored every month, right?
Don't let this month dazzle so brightly you forget your money goals. Overspending isn't romantic. But a prepared budget—now you're speaking our love language. So while you're searching the stores for the best deals on heart-shaped everything, remember these six things in your February budget.
What to Budget for in February
1. Valentine's Day
All you need is love. And a budget. With those powers combined, you'll do many great things— like buying stuffed animals and chocolates for all your loved ones. This is the most wonderful time of year for hopeless romantics and anyone who just loves love . . . or for those who enjoy pink, red and gold wrapped candies on clearance February 15.
Wherever you fall on the love-hate relationship scale with Valentine's Day, you'll need a place in your budget for all it entails: cards for everyone in your kids' classes, dinner with your someone special, a night in with friends eating pizza and bashing a rom-com, or an engagement ring to finally pop the question after recreating your first date. (Awww!)
No matter what, before you shower your loved ones with affection, show your budget some attention.
2. The Big Game(s)
You won't enjoy that "big annual football game" (trademark infringement, you know), NBA All-Star Game, or the World Junior Curling Championships without snacks—and lots of them. It's an unwritten rule. Sports and snacks go together. So if you're hosting a raucous crowd at your place with a ball-themed food spread (meatballs, cheeseball, deep-fried corn balls . . .), get your budget game-day ready.
3. Tax Prep
Benjamin Franklin said something about the only certainties in life being death and taxes. Well, taxes don't seem so bad now, huh? So roll up your sleeves, collect all that paperwork, and get filing early. This way, if you owe anything, you've got three months to save up so you can pay it off.
If you aren't into rolling up your sleeves, you can always hire someone who is—a tax professional. They know the ins, outs, ups, downs, and side-to-sides of all things taxes. Everyone says, "no pain, no gain," but these pros can take away the tax-prep pain and leave you with peace-of-mind gain.
4. Presidents Day Sales
Can we get a slow clap for all those appliances about to be on sale? And the electronics. And furniture. Plus—don't forget the winter apparel closeouts. You can outfit your house and your body while getting some of the best deals of the year. Let's celebrate those dead presidents and spend a few Andrew Jacksons in exchange for hugely discounted stuff! Our forefathers would be proud of our thriftiness.
5. Girl Scout Cookies (nom nom)
When an adorable little lady in a badge-covered sash asks if you want the best cookies that come out only once a year, you say yes. You have to say yes—if you've budgeted for it. So either add a new budget line for this sweetness or pad your grocery line so you can fill your freezer with all the skinny chocolate mint goodness it can hold.
6. Spring Break Savings
Spring is just around the corner. We know it doesn't seem like that right now. You might be scraping ice off your windshield or thinking the sound of your chattering teeth is the new background music to your life. But spring is coming. We promise.
And with spring comes spring break.
Whether you plan to travel some place beachy or go staycation to the max, it's never too early to start your spring break sinking fund. In fact, moving money into that fund might be just the solace you need while you're convincing the pup to do his business on spikey, frozen blades of grass every morning. Ahhh. Sunny days will be here again. We promise.
Get Your Budget Ready for February
Don't you just love making plans—plans for good food, good sales, and good fun to come? You can make all these plans happen—paying cash, as they do—if you just budget ahead. With that in mind, don't you love budgeting?
Okay, even if you don't love budgeting as much as February loves Valentine's Day, you'll love what budgeting does for your life. And EveryDollar's just the app you need to put yourself in that loving relationship with your budget and your money.
Show your money and your budget how much they truly mean to you by logging in to EveryDollar and setting up that February budget.
Because when it comes to you and your budget—it's a love story, baby, just say yes.