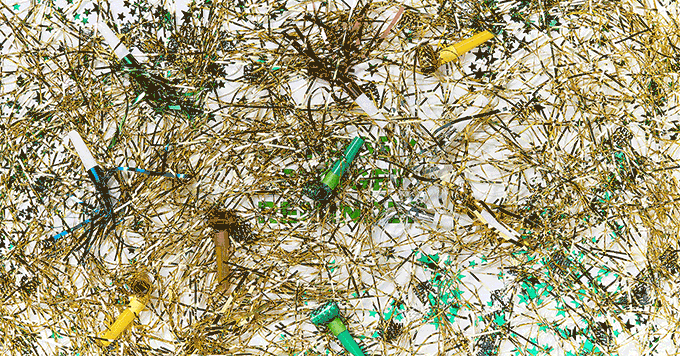 8 Things to Remember in Your January Budget
Can you believe it's nearly January? Where did 2018 go? We know you want to start the new year off right, and budgeting's the foundational step to make all those 2019 money goals come true. While you're ringing in the new, should older budgets be forgot and never brought to mind?
That's a big no.
The budgets of years and months past—with every success and slipup—are what you build future budgets upon. It's important to see what worked and what didn't. Use that knowledge as power to move forward.
Before you eat all the Christmas candy and litter your living room floor with red and green wrapping paper shreds, be sure to set up your very first EveryDollar budget of the new year, and remember these eight items as you do.
1. Gym membership
A top New Year's resolution each year is physical fitness.(1) You may be ready to get swole, but is your budget ready for the gym membership or exercise streaming services?
2. Organization tools
For some of us, the best part of the new year is a new planner. With plenty of inspiration and organization, those empty pages are pure potential for the year to come. Or maybe you're ready to go digital with new apps or devices to get your life together. Whatever your method, be ready to pay for all the organizational tools your plan-loving heart desires—and can afford.
3. Cold weather costs
The weather outside is frightful. And the fire is so delightful, but it costs money to keep it lit. And running the heat more each day hikes up your electric bill. Don't freeze to save money. Just be ready for the brisk days ahead.
4. Tax advisor fees
There are three types of people: those who pay their taxes the minute the paperwork comes in, those who wait until February, and those who scramble on April 14. You may be paying Uncle Sam (boohoo!) or making plans to responsibly use that return. You may be filing on your own or hiring a professional who'll do all the leg work to get you the best return (woohoo!). No matter where you fall, you should start prepping for tax expenses this January.
5. Christmas 2019
Okay, we get it. You haven't even taken all the reindeer off your roof from 2018's Christmas, and here we are talking about next year's Christmas. But if you had a tight time making it the right time to rock the night away without worrying about debt or overdraft fees, don't you want to do it differently next time? And if you saved up for Christmas all last year, wasn't it nice to have that money ready to spend when the holidays arrived?
Santa is good for nothing but eating Christmas cookies and taking cute photos with the kids, so it's up to you to start getting ready for the most wonderful time of the year. Set up a Christmas sinking fund this week, and budget an amount you'll jingle jangle in there each month. Come December, you'll thank us and yourself.
6. New hobbies
What better time to start bettering yourself than the start of a new year. This means some of us will dust off the guitar we've always intended to learn and finally start that Weezer-inspired garage band. Others will take up salsa dancing. But all those new strings, shoes, and lessons cost money. Don't squash your dreams. Budget for them. Then you can live them.
7. Summer vacation sinking fund
Summer's coming. Sure. It's months and months off, but while tears from the misery of winter collect in your oversized blanket scarf, close those wet eyes and dream of the beaches. When are you planning your summer getaway? Do it now. Get an idea of the cost, divide it by the number of months until that relaxing bliss, and start putting money in a vacay sinking fund. That way you bring home memories and tan lines instead of debt.
8. Your money goals
What money goals are you planning to hit in 2019? Is this the year you become debt-free? Will you save up a fully funded emergency fund? Can you get the house paid off? Big, small or in between, every money goal is worth setting, striving and slaying.
Ready to own 2019? Set up your January EveryDollar budget today! Cheers!