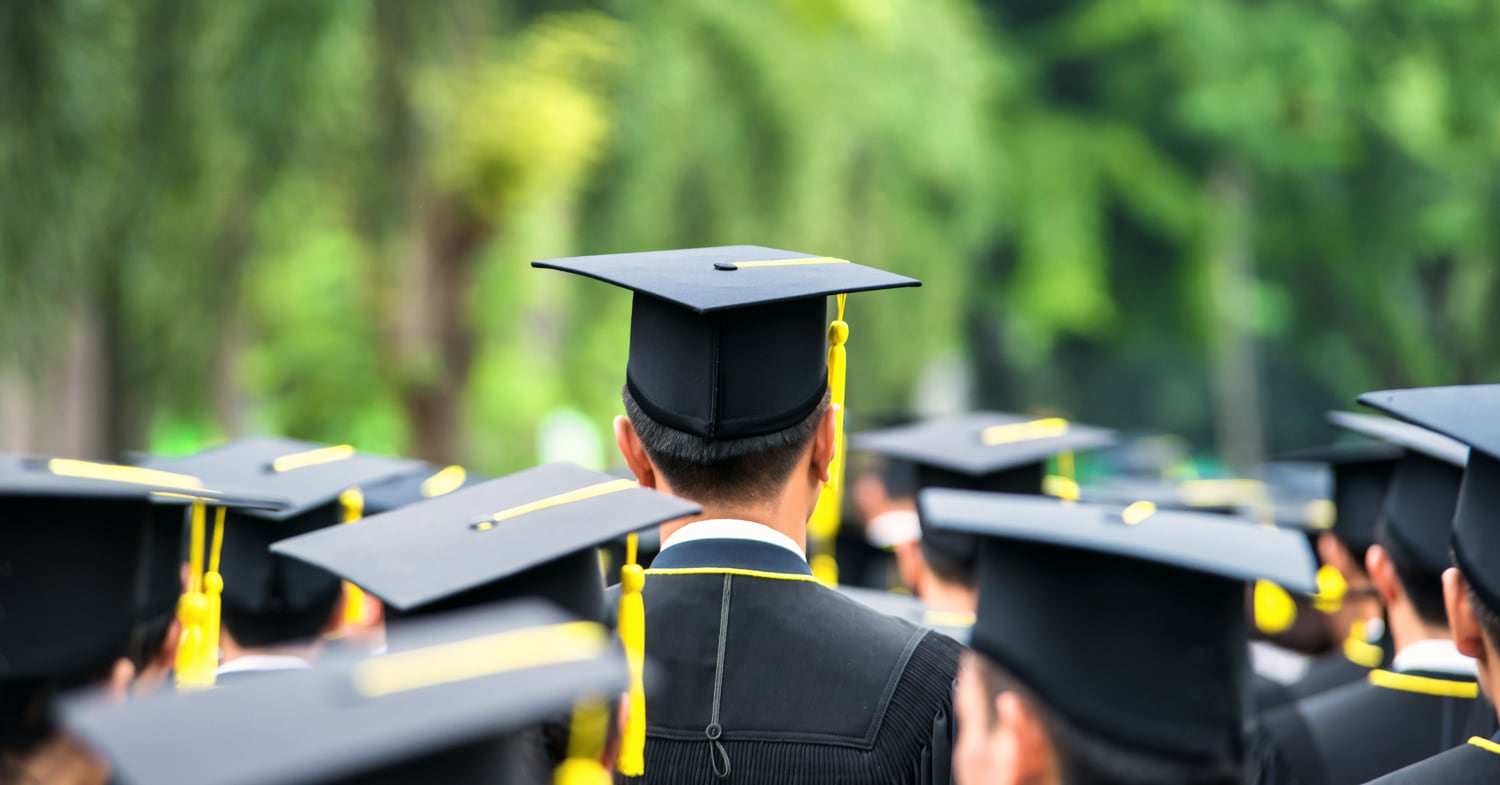 How to Pay for College Without Student Loans
It goes without saying that college is not cheap and more often than not leaves graduates drowning in debt.
Here's why: When we don't talk about the hard stuff—even the obviously hard stuff like money and finances—we often end up taking the easiest path. For college students this path is paved with loans and lots of them!
Thankfully, if you just kick your brain into high gear and think about the hard stuff, you'll find plenty of options to pay for school with zero debt. And we're here to help with some alternatives to paying for college with student loans.
Get Smart About College Debt
Maybe you've heard the advice that debt comes in two forms: good and bad. And student loans, an expert told you, should be viewed as good debt—an investment in your future. After all, with a college degree you'll set yourself up for better career opportunities in the years to come.
Well, we're here to tell you that advice comes in two forms too. Taking out loans to pay for your education won't enable you to go after your dreams. It'll only prove to stifle them.
Talk to adults who are in the know and you'll see what we mean. With the average American owing nearly $33,000 it's no wonder 20% of those with between $10,000 and $25,000 of student loan debt are behind on payments.¹ We don't want those numbers to represent you or your loved ones.
Set Yourself Up for Success by Avoiding Student Loans
Before you ever make a payment, make some decisions about where you'll go to school and how you'll stretch your budget. These decisions will help you keep costs down and make the goal of taking on no college debt a more likely reality.
A few decisions you can make now to reduce college costs later:
Attend a community college for the first two years and then transfer to a university.

Opt for an in-state school and cut your tuition by thousands of dollars. Fees and tuition for in-state schools are $9,970 on average, while a private, nonprofit school averages a price tag of $34,740.²

Choose a college based on affordability, not sports or special majors. Unless, of course, you're offered substantial scholarships in those areas.

Live at home (yes, with your parents!) for at least the first two years.

Commit to smart money choices at the start of each school year, like buying used textbooks whenever possible and signing up for the cheapest meal plan allowed.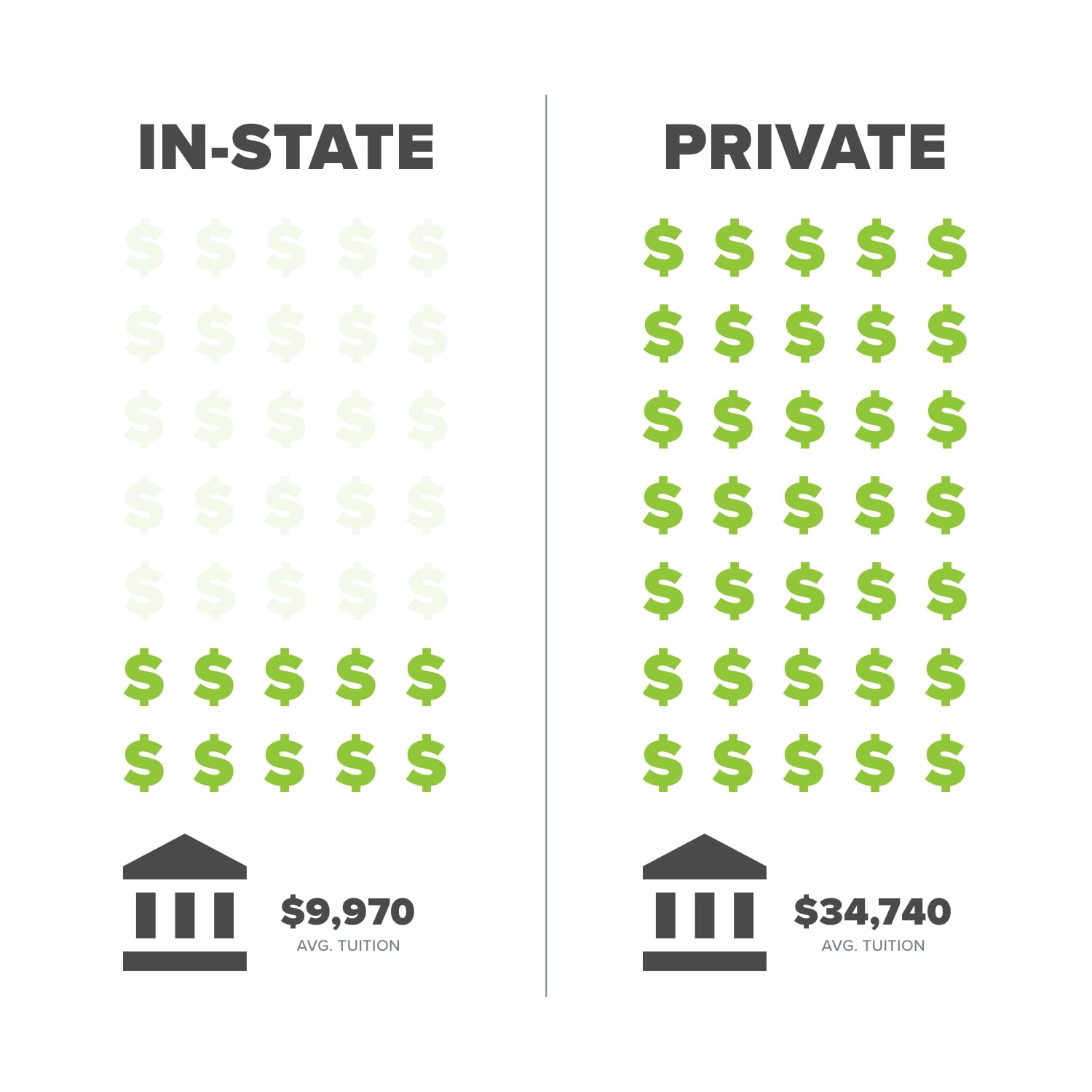 Explore Every Option to Pay for College
To truly explore every option, you have to consider the big one: student loans. And guess what? That's what you're doing right now! Good job! Saying no to college debt is a smart move, but what are the alternatives?
Cover your tuition and other college expenses using a combination of scholarships, grants and hard work. Here's how:
1. Pay for college with scholarships.
We're talking free money delivered to your door just because you took the time to look for it. Students who commit to doing some research, filling out paperwork, and writing essays win big! Here are a few options to look into:
Local scholarships: These babies might be close by, but you'll still have to look for them. Ask around. Talk with your guidance counselor, the chamber of commerce, community or church groups, your employer, and your parents' employers to see what scholarships are offered locally and how you can apply.
National scholarships: The internet is full of weird and wonderful reasons for handing out college money. You can win a scholarship for anything from the best duct-tape prom dress to the best grades. Start with reputable and easy-to-use sites like fastweb.com and scholarships.com to find the ones right for you.
Military scholarships: Did either of your parents serve in the military? Do you plan to serve? If so, be sure to take advantage of the benefits available to active duty members, veterans and their families. You can find more information at todaysmilitary.com.
School-specific scholarships: Make your mark before you ever step foot on campus as a freshman. Contact the admissions office, the financial aid office and the department head of your chosen major as well as the athletic director of your sport to ask how you might earn a scholarship.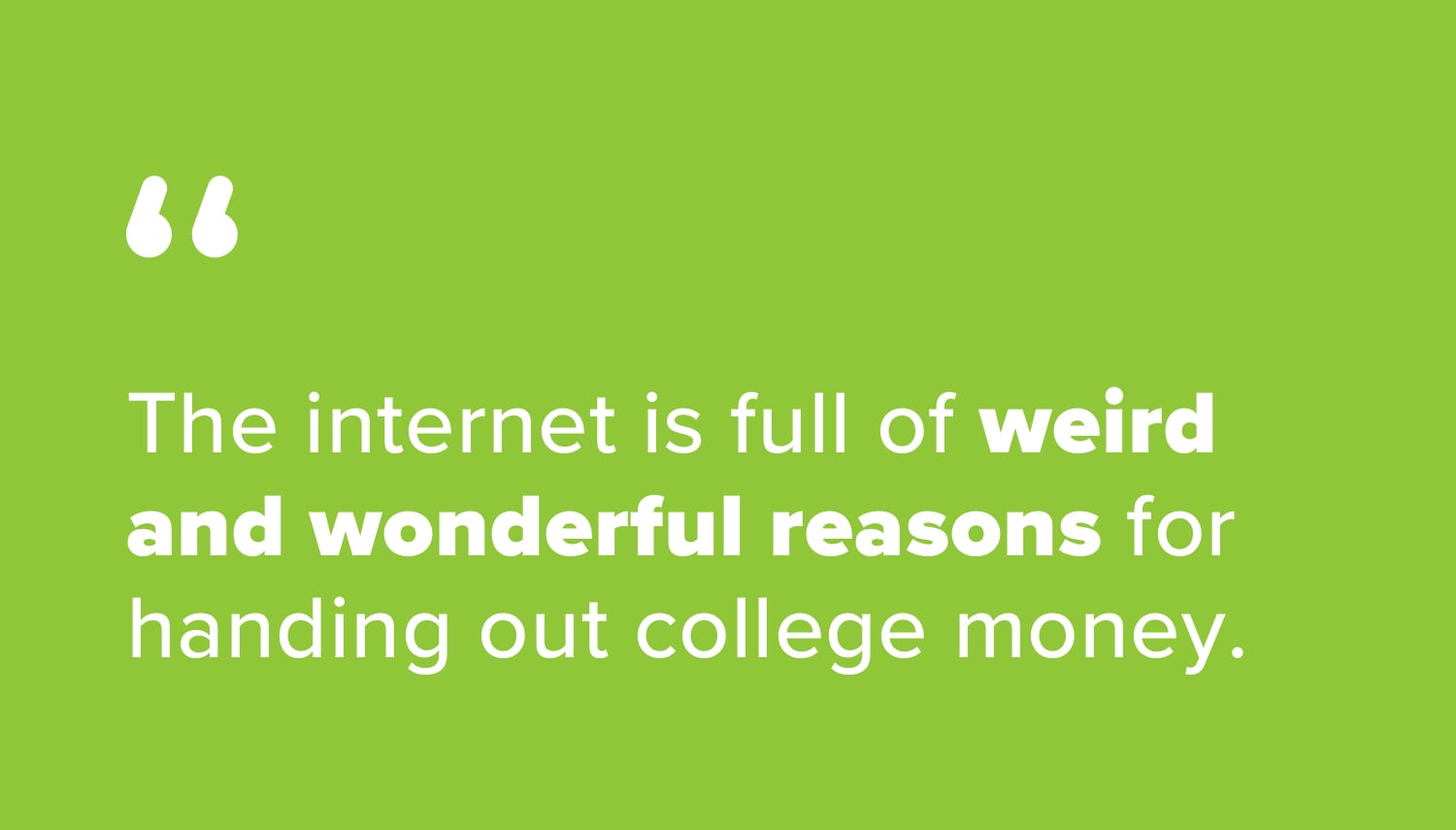 2. Pay for college with grants.
Grants are another way to receive free money for college. With some programs based on financial need and others based on both need and merit (like academic achievement), there's no reason you shouldn't look for a few that are right for you. During the 2017 to 2018 school year, full-time students received between $3,900 and $5,830 in grant aid and federal education tax credits and deductions.³ In some cases, that's enough to fund an entire year at an in-state school!
Federal aid: To apply for a Pell grant (and any other form of federal aid) you'll need to complete a FAFSA. Be aware that this form automatically signals your intent to take out student loans unless you confirm otherwise. Follow up with your college's financial aid office to remind them of your desire to only accept scholarships or grants.
State aid: To make yourself more eligible, pay close attention to your grades, test scores and involvement in extracurricular activities. When the time comes to apply, send in your paperwork as soon as possible. Many states put a cap on total financial aid awarded each year so when it's gone, it's gone.⁴
3. Pay for college with hard work.
Don't wait around for an acceptance letter. Take your college-money matters into your own hands and make a plan to work and save for your tuition.
Get a job: Look for part-time work during the school year and full-time employment in the summer. Not sure your time will be worth it? Do the math. Just 12 weeks of working 40 hours at $7.25 (federal minimum wage) earns you $3,480! Plus a recent survey found that almost 35% of college working students think having a job made them take their education more seriously.⁵
Save your income: Work is hard, but you know what's even harder? Not spending every dollar you bring home! A budget allows you to prioritize saving for tuition and other college expenses over indulging in an online shopping spree or a midnight pizza run. And creating an EveryDollar budget makes budgeting easy and accessible. You'll be surprised how quickly your hard work adds up to savings in the bank!
A Quick Note to Parents on Teaching Kids to Avoid College Debt
No matter what obstacles you face in getting your teen on board with this idea, keep this mantra in mind: They'll thank me later. Trust us—they will! You might start by sharing this article with them and having an open dialogue about it. Move forward with two money lessons to encourage wise financial decision-making in the years to come:
1. Let your kids know your family unit comes first. Before you agree to pay for college, be sure you're approaching your finances in the right order. We follow the Baby Steps, which means you'll want to be debt-free, have an emergency fund of three to six months of expenses in the bank, and contribute fully to your retirement accounts before helping with college expenses.
Money Lesson: To manage my money well, I must keep my priorities in order.
2. Open up a bank account in their name. That's right. Let them take the reins while they're still under your roof. If they work, their paycheck should be deposited into their account. If you set aside money every so often to buy clothes and other necessities for them, go ahead and put that money in this new account too. Show your kids how to create a budget and how to track expenses. Most importantly, let them know they can ask questions anytime.
Money Lesson: I'm the boss of my money. I can do great things when I manage it well.
Start saving for college now by creating an EveryDollar budget!